Xbox One, Surface Pro 4 get summer discounts pre-Anniversary update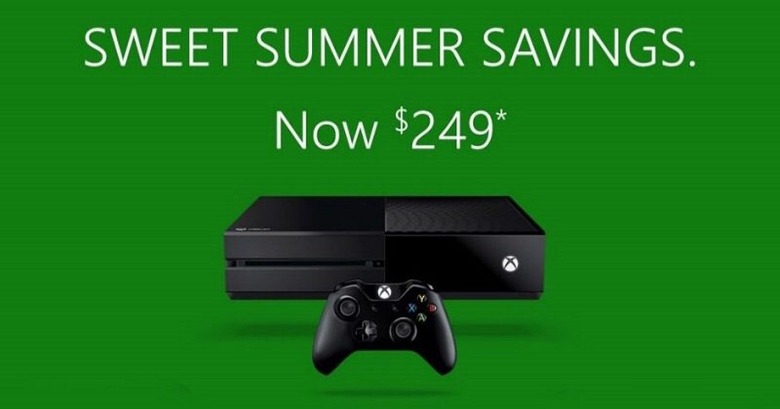 Summer is here, at least for those in the US, so naturally it's an opportune time to get some sales rolling. It isn't surprising to see Microsoft slash the price of its Xbox One flagship console, though it is somewhat curious that it is also offering a discount for the Surface Pro 4 as well. But with a new $249 price tag and just days before August 2nd, the Xbox One has just stolen the Xbox One S' thunder to become the cheapest Xbox console. At least for now.
The Xbox One S, which launches next week, will have a starting price tag of $299 for a 500 GB model. In addition to being more compact than a regular Xbox One, it would have a more accessible price tag. Well, not anymore. At least not until this promo is in effect. Now an Xbox One with the same 500 GB internal storage goes for $249. That actually goes for any edition of the 500 GB Xbox One, including Gears of War: Ultimate Edition bundle, the white Quantum Break bundle, and Name Your Game Bundle.
The catch? The $249 only lasts as long as supplies last. Although the Xbox One S is just around the corner, some might prefer a more classic, or even a special edition, console. Some might also prefer having a dedicated port for the Xbox Kinect. Prices for other Xbox One models remain the same.
Joining this sale is the Surface Pro 4, which almost feels odd given it's summer time. But if you've been waiting for the right time for prices to drop, this might be your chance. However, do note that, like the Xbox One sale, the price cut only applies to specific configurations. In this particular case, the Surface Pro 4 with an Intel Core m3 processor and 128 GB of storage now goes for only $749, a $150 savings off the normal $899 price tag. Everything else, which means the more powerful models, are on their original prices.