Xbox One Ocean Shadow and Winter Forces controllers launched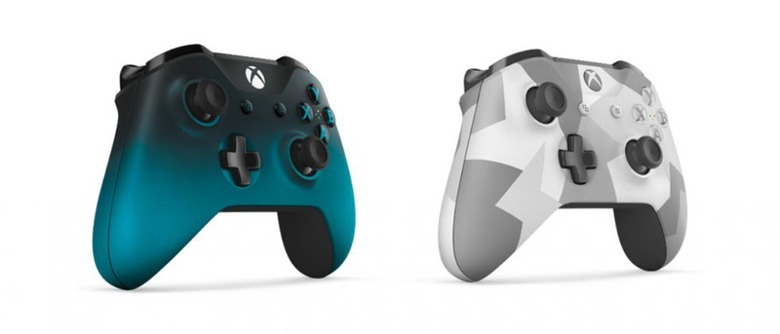 Microsoft has taken the wraps off a pair of new Xbox One controllers, the turquoise-colored Ocean Shadow Special Edition model and the modern-camo Winter Forces Special Edition Controller. Both of these controllers will be available to Xbox One and Xbox One S owners across the world starting on February 7, says the company. Both controllers will cost $69.99 USD.
The Ocean Shadow Special Edition Xbox One controller is, says Microsoft, a matte black model that fades into a light blue metallic-colored finish. It's like a reversed ocean, getting blue and lighter the further down you go. The model has illuminated ABXY buttons that glow light blue, as well as the menu buttons.

If that color doesn't appeal to you, there's also the Winter Forces Special Edition controller, a model that looks like a close-up camouflage pattern in white and various shades of gray. This is part of the company's 'Forces' series of controllers, following the Armed, Covert, and Midnight Forces controllers.
Microsoft says the Winter Forces controller features arctic camo patterns that'll pair well with the Xbox One S's stylings. With this — and the Ocean model — you'll get a textured grip, better wireless range, and custom button mapping.
SOURCE: Xbox News