Xbox One gets Quantum Break special edition console bundle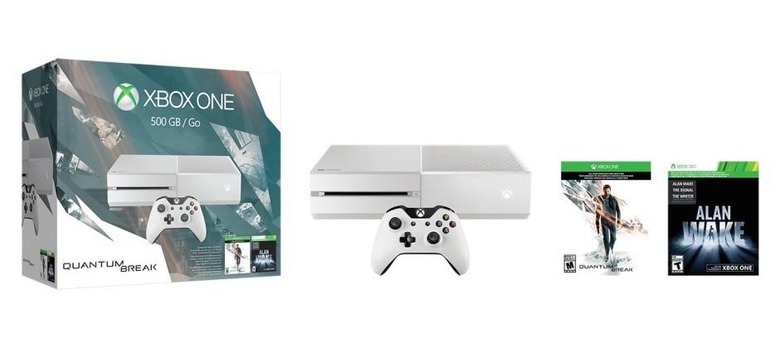 Microsoft has just announced the latest bundle for the
console, this time featuring the latest exclusive title, Quantum Break. The console and controller come in a limited Cirrus White color, although
says the Quantum Break bundle will be available with black hardware as well. Inside the box players will find a 500GB model Xbox One, a downloadable copy of Quantum Break, as well as code to download developer Remedy Entertainment's previous title, Alan Wake.
Priced at $349 in the US, the Xbox One Quantum Break bundle is available for pre-order now and will be released on March 29th in most regions around the globe. The redeemable download for Alan Wake consists of the original Xbox 360 game, which will be playable via the Xbox One's backwards compatibility feature, along with the title's The Signal and The Writer DLC releases.
For those who already own a Xbox One, Microsoft is also doing something cool for the launch of Quantum Break: The game has just been announced for Windows 10, and those who pre-order the digital version for the Xbox One will get the PC release for free too.
All standard purchases of Quantum Break on Xbox One will include the original Alan Wake and its DLCs, just like in the console bundle, while those who pre-order will also get Alan Wake's American Nightmare, the quasi-sequel for the Xbox 360.
As one of Xbox One's biggest exclusives recently, Microsoft is going to great lengths to make Quantum Break as attractive a purchase as possible. The inclusion of the PC version also helps to further push the connection between Xbox and Windows 10, and make the latter appealing for gamers.
SOURCE