Xbox One gets first mainstream hands-on from Jimmy Fallon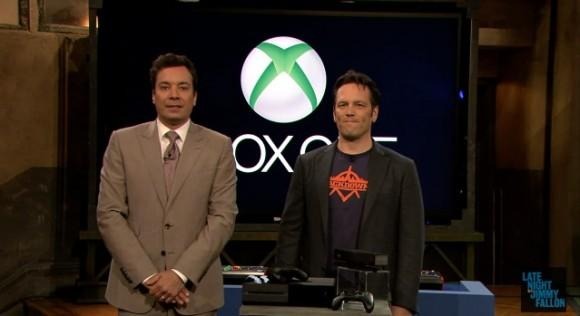 The Xbox One made a grand entrance into the world late last month, and we were treated with even more goodies from Microsoft last week at E3 2013, where the press were able to get their hands on the new console. However, while then news of the console has made its way into the mainstream, we haven't seen any high-profile, mainstream celebrities get their hands on the Xbox One, until now.
Opening up with "Video Games Week" on Late Night, host Jimmy Fallon was able to show off the new console to the world and get some hands-on time with the new console with help from Microsoft Studios vice president Phil Spencer. Fallon and Spencer showed off the console, new controller, and Kinect sensor, as well as played around with a couple of new games.
Fallon and Spencer both went head-to-head in Killer Instinct and Forza Motorsports 5, the former of which was played with an arcade-style gamepad with a selection of buttons and joystick, while Forza 5 was played using a racing simulator complete with the racing seat, steering wheel, and pedals. We've already seen these games demoed live, but it was nice to see them being played in a more-casual environment.
Of course, as typical fashion with a kid like Jimmy Fallon, we got a good look at his button-mashing skills in Killer Instinct, as well as his racing simulator skills (or the lack thereof) in Forza 5. This is the first time that the Xbox One and its accompanying games have gotten demoed on a major television network, so we're seeing these in a slightly different way than at Microsoft's press conference.
Jimmy Fallon's Video Game Week will continue all week long with Sony, Ubisoft, Activision, and Nintendo all making appearances on Late Night this week. Of course, this means we'll most likely see another PS4 demo (Fallon got the first hands-on back in February), as well as Wii U shenanigans and possibly a look at Call of Duty: Ghosts from Activision.