Xbox Game Pass takes the fight to PlayStation Now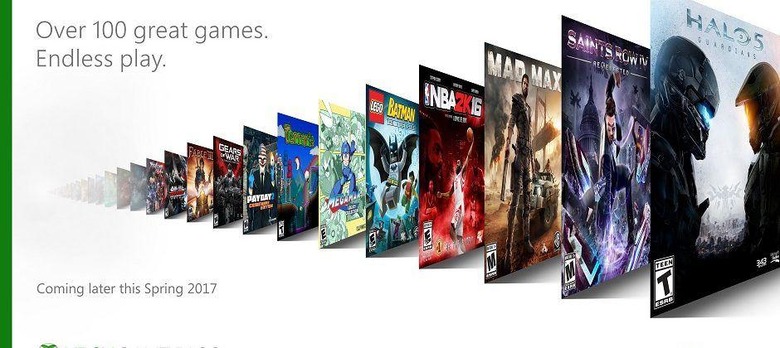 Microsoft is taking a page out on Sony's book today, announcing a new subscription service for Xbox owners called Xbox Game Pass. For $9.99 per month, you'll be able to subscribe to a Netflix-like service that allows you to download and play full Xbox One games. Xbox Game Pass extends beyond Microsoft's current-generation console, however, as it will also include access to a number of backward compatible games.
Though this certainly seems to be Microsoft's answer to PlayStation Now, there are some significant differences between the two. For starters, Xbox Game Pass lets you download games to your console, while PlayStation Now only allows you to stream games over the Internet. There's also a big difference in price – you'll only pay $10 per month for Xbox Game Pass, compared to the $20 monthly fee for PlayStation Now.
Perhaps most importantly, Xbox Game Pass gives you access to current-generation and previous-gen titles. PlayStation Now, on the other hand, only lets you play PlayStation 3 games.
So, while the two are similar, they aren't exactly the same. At launch, there will be more than 100 games to check out with Xbox Game Pass, though Microsoft says that games will rotate in and out of the catalog each month. That's similar to how Netflix handles its streaming service, so it may be more appropriate to draw our parallels there.
All titles in the Xbox Game Pass catalog will be available to purchase at a discount for subscribers. This includes all DLC for Game Pass titles, so if you encounter a game you like, you can take advantage of these discounts to add it to your library permanently.
For now, Xbox Game Pass is in limited testing through the Xbox Insider Program. It'll be available to all Xbox One owners this spring, with titles such as Halo 5, Payday 2, NBA 2K16, and Soul Calibur 2 present at launch. Does Xbox Game Pass sound like a subscription service you'll sign up for? Head down to the comments section and let us know!
SOURCE: Microsoft