Xbox Game Pass is coming to PC with more than 100 games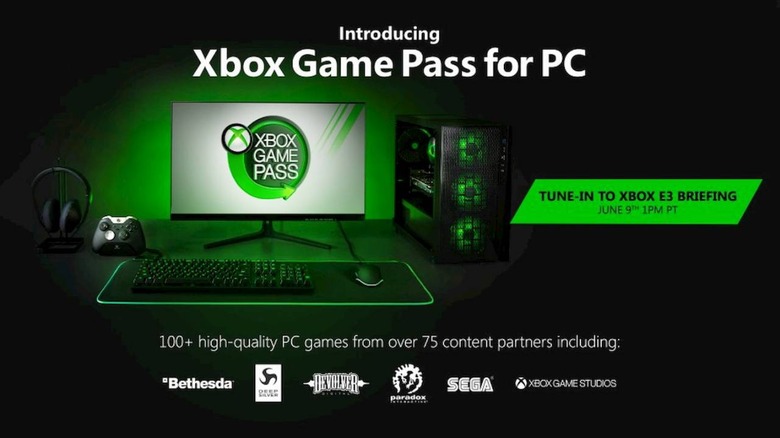 While Microsoft was focusing on building the Xbox brand, its focus on PC gaming sort of fell by the wayside. In recent years, the company has been trying to turn that around, announcing new initiatives that would see all of Microsoft's first-party console games come to PC through Xbox Play Anywhere. Today, Microsoft took things one step further by revealing that Xbox Game Pass is coming to PC.
While the PC version won't be a direct copy of Xbox Game Pass on console, it'll be the same basic service that has players paying a monthly subscription to download and play a revolving library of games. Microsoft says that Xbox Game Pass will launch with a "curated library of over 100 high-quality PC games" from developers and publishers like Bethesda, Deep Silver, Devolver Digital, Paradox, and Sega.
One of the major draws of Xbox Game Pass on console is that Xbox Game Studios titles are available through the service on the same day they launch. In a blog post today, Xbox chief Phil Spencer said Microsoft will do the same thing on PC, mentioning upcoming titles from Obsidian and inXile specifically. Subscribers to Xbox Game Pass will also get a 20% discount from the Microsoft Store on titles that are currently in the Game Pass library, with a 10% discount offered on DLC and add-ons.
That's all the information Spencer shared on Xbox Game Pass for PC today, so we're left without a release date or a monthly subscription cost. Spencer says that Microsoft will have more to say about the PC version of Xbox Game Pass at E3 2019 next month, so we'll keep an eye out for that news.
As exciting as the arrival of Xbox Game Pass is, it wasn't the only PC gaming announcement Microsoft made today. The company also announced that it will soon make Xbox Game Studios' PC games available through multiple storefronts – not just the Microsoft Store. Halo: The Master Chief Collection seems to have set the trend in this regard, as its PC release will be available through both Steam and the Microsoft Store.
Eventually, Halo: MCC will be joined on Steam by "more than 20 Xbox Game Studios titles," beginning with Gears of War 5 and the definitive editions of Age of Empires 1, 2 and 3. For now, this announcement only covers Steam and the Microsoft Store, but Spencer says that Microsoft will look to bring its PC games to other digital storefronts in the future.
Spencer's final announcement of the day is probably more exciting for developers than for consumers: Microsoft will enable native Win32 support for PC games on the Microsoft Store, so that should make the company's storefront a more attractive place to host games. More information will be coming down the line at E3 2019, and we'll have that news for you here at SlashGear when Microsoft announces it.