Of all the gaming features present in Windows 10, the Xbox Game Bar doesn't seem to get a lot of attention. There are, after all, a lot of programs that can capture screenshots and gameplay video like the Game Bar can, so when the tool was first introduced in Windows 10, a lot of players probably stuck with what they were already using. Nevertheless, Microsoft has been improving the Game Bar over time, and the new features it's introducing today might make it worth another look.
At the beginning of April, Microsoft rolled a bunch of new Game Bar features into beta for Windows Insiders. Today, those features are all coming to the live version of Windows, giving players more control over their music and more social options within the Game Bar overlay. As a reminder, to open the Game Bar while you're in-game, you simply need to hit Win + G – Game Bar works with most PC games, though Microsoft notes that there might be some compatibility issues with games using the Vulkan Graphics API.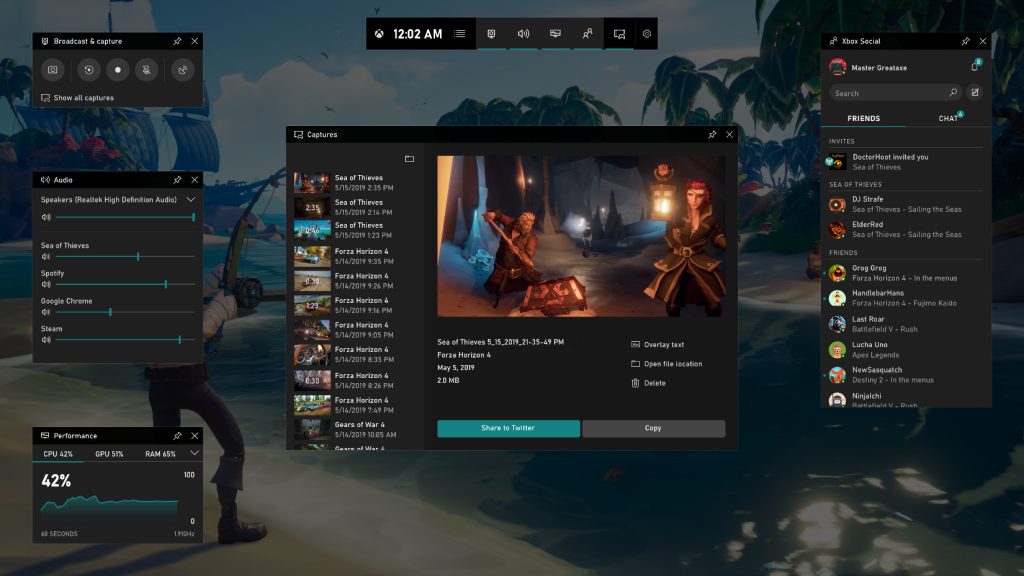 As outlined by Major Nelson, Xbox Game Bar is gaining support for Spotify today. Assuming you've got the Spotify app installed on your machine, you can now control music playback and volume through the Game Bar. You can even favorite songs, shuffle upcoming tracks, and browse recommended playlists through the Game Bar as well. All you need to do is sign into Spotify through the Game Bar, which can be done by opening the overlay and clicking the Spotify widget.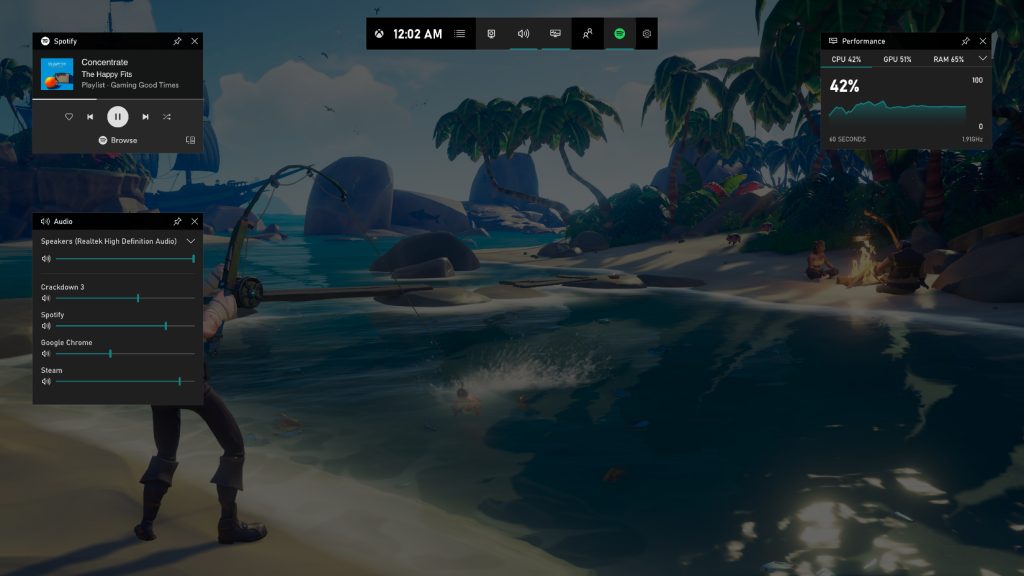 Beyond Spotify, there are quite a few new social options in Xbox Game Bar. Not only can you chat with friends in voice and text across Xbox One, PC, and mobile, but your conversations will be synced across all of those platforms too. There's also a new Looking for Group feature, which lets you find other players to party up with.
Then we come to what is perhaps the strangest new feature shipping with this update: the ability to turn your game screenshots into memes. Now you can take a screenshot and hop into the Captures widget to add overlay text to it. The finished product can then be shared in a message to other users or posted to Twitter, but for now at least, you can't share it to other social networks directly from the Game Bar overlay.
Finally, you can now customize the widgets the appear in your Game Bar. You'll be able to hide the widgets you don't use, rearrange their order in the overlay, and pin specific widgets so that they'll always be visible. It sounds like the Xbox Game Bar is evolving into a pretty handy feature over time, so if your Windows 10 installation is all up to date, be sure to take these new features for a spin.