Xbox Game Ahead Program Launched, Buy Call Of Duty: Ghosts With Next-Gen Upgrade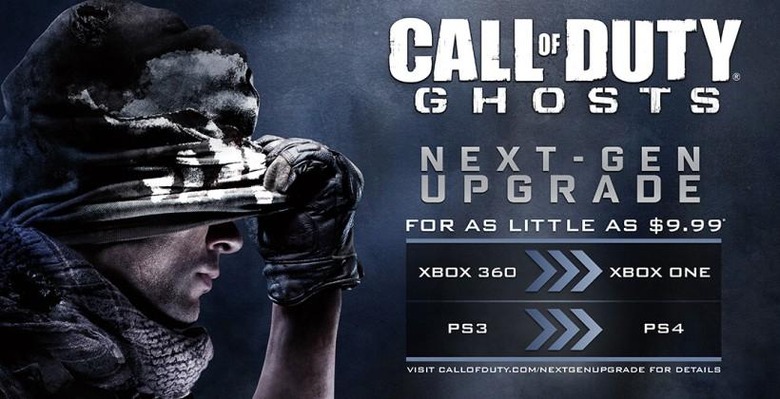 With the release of Microsoft's next generation console just a few months away, gamers are probably on the fence about buying new games that would also be available on the upcoming Xbox One as well. Players can now relax a bit at least for one popular title, as Call of Duty announces its Xbox Game Ahead offering to specifically address this concern.
Microsoft is still doing a few tweaks and marketing stints ahead of the expected November retail launch of the Xbox One, boosting CPU and graphics performance by just a bit, as well advertising new features that will sync with the football season. Meanwhile, game developers and publishers are deep in preparation of new titles that will also launch hand-in-hand with the new console.
One such title is Call of Duty: Ghosts, the tenth installment of the popular first-person shooter from Activision. While the game will be available on both the Xbox 360 and the Xbox One, they are making a sweet deal that will give gamers some peace of mind in trying to decide which version of the game to buy.
In the Xbox Game Ahead Program, participating retailers will be selling a disc-less dual-license digital version of Call of Duty: Ghosts for a suggested price of $69.99, containing digital copies for both console versions. Additionally, buyers can just purchase the Xbox 360 version of the game from Xbox Live Marketplace for $59.99 and will be allowed to buy the Xbox One version for just $10 until March 31, 2014.
Other retailers have their own gimmicks. GameStop US will let buyers trade in their Xbox 360 version and buy an Xbox One copy for just $9.99 while the European branches will accept trade-ins for a significant discount for an Xbox One copy. Amazon will give a $25 value for the trade-in, plus a bonus $25 credit when purchasing the Xbox One version, while Best Buy offers $40 for the trade-in plus a $10 coupon. Most of these offers end on December 31 this year, while some will extend until supplies last.
As an aside, Call of Duty has a slightly similar thing going for buyers looking to play the game on the Playstation 3 and 4 consoles. But whatever console generation gamers chose to play on, they are assured that their stats and profiles will move seamlessly with them as long as they have signed up for a free Call of Duty account.
SOURCE: Call of Duty
VIA: Major Nelson