Xbox Elite Wireless Controller Gears of War 4 Limited Edition lands in October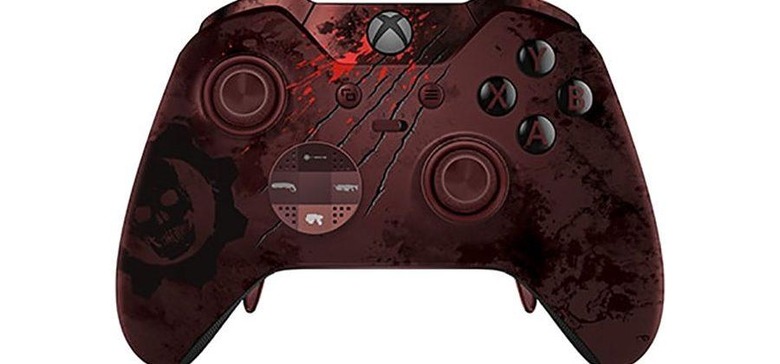 Xbox Elite Wireless Controller Gears of War 4 Limited Edition is a very long name for what is essentially a wireless controller of your Xbox one that has a Gears of War 4 livery on the outside. The controller looks like it's covered in old blood with a bit of fresh, bright red blood splattered on it. Microsoft calls it a "gritty, battle-weathered design."
Whatever you call it, the design looks really cool and the controller is customizable with swappable components. The control ships with Hair Trigger Locks and there are a variety of game themed thumbsticks, d-pads, and paddles to choose from. The controller works with an accessories app allowing users to change trigger sensitivity, button mapping, and other aspects of the controls.
That means you can customize your Xbox One controller about as much as PC gamers are able to customize their gamepads. Microsoft also points out that the Accessories app only works for mapping buttons and saving profiles on the Xbox One and Windows 10 devices. Buyers of the controller also get one unique multiplayer lobby emblem and three Gear Packs for in-game items.
The controller is not cheap at $199.99 with shipping to kick off on October 4. Fans can pre-order the controller now and credit cards will be charged when the controller ships. The Gears of War 4 game will launch on the Xbox One on October 11. That means if you pre-order the controller, it should turn up before the game so you will be ready to play. Gears 4 is from The Coalition, the previous games were from Epic. Events in the game are to be set 25 years after the events, that happened in Gears 3 and will feature new heroes.
SOURCE: Microsoft Store