Xbox Design Lab offers customized Xbox Wireless Controllers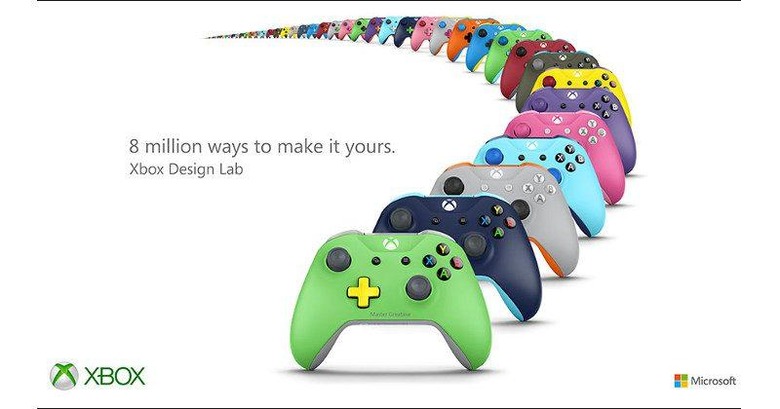 Microsoft earlier revealed the smaller but also better Xbox One S, which came with a new and improved Xbox Wireless Controller. While most of the attention was naturally lavished on the console, the controller is far from being a mere accessory. That's because Microsoft now offers a way to make that controller truly yours. Taking a page out of the Moto Maker's book, Microsoft is opening the Xbox Design Lab, where buyers can customize almost every aspect of the controller they will be buying.
Every controller that goes through the Design Lab is made to order. Buyers can change the color of every piece of gamepad's design, from the body color to the back case and even down to each of the buttons. If you have the dough to spare, you can even have your name or Gamertag, or any text up to 16 characters engraved on the controller. No more arguing over whose controller is which.
Although it might sound trivial or even whimsical, this unexpected new feature plays to gamers' propensity to really "own" their gear. There doesn't seem to be any option for custom logos and markings, however, which would probably appeal more to gamers, is specially designed limited edition consoles are any indicator. For now, you'll just have to settle for mixing up colors in artistic or garish combinations.
But if you're short on ideas, the Design Lab will also host color schemes made by other buyers. Probably with their permission. You might need some help, indeed, as Microsoft implies that there are 8 million possible combinations available.
The Xbox Design Lab is now open for business in the US, Canada, and Puerto Rico and is available online in the Design Lab website itself, the Microsoft Store website, or offline in select Microsoft stores. Do note that pre-orders made between now and August will ship only in early September. Moving forward, all custom orders will only take 14 business days. A regular custom-made Xbox Wireless Controller is going to cost $79.99 ($99.99 CAD), but a laser engraving will add $9.99 ($14.99 CAD) on top of that.
SOURCE: Xbox