Xbox Android and iOS app revamp brings Xbox SmartGlass feel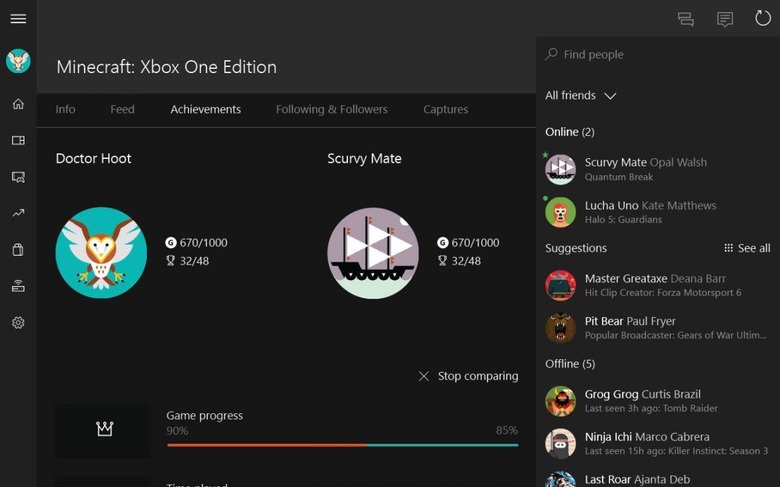 Microsoft has unveiled the refreshed Xbox App for Android and iOS devices. The app will keep you connected with all your gaming pals while you are away from your game console. Microsoft has brought everything that gamers feel comfortable with and like from Xbox SmartGlass into the refreshed Xbox app. The app will allow users to see what friends on Xbox Live are doing, share updates and game clips, watch and interact with game content, and buy games from the store.
When users are with their Xbox One, the app can navigate on screen menus using the smartphone keyboard and touch. The app can also be a media controller for the Xbox One giving a remote control-like function. The update brings an updated homepage that makes the Activity Feed home for the app. A new Trending content section lets gamers keep up with what's popular on Xbox Live.
Using Facebook friend finder, gamers can find and add Facebook friends to their Xbox friends list. With many gamers going by screen names on Xbox Live, the new app also allows the users to share their real name with friends. Game Hubs is now part of the Xbox App and the user profiles for the Xbox app have been redesigned.
Microsoft launched the updated app on June 12 and it is a 30MB download. The Xbox App has as many as 10 million installs since it launched and the current version is 3.1606.0610. The app requires Android 4.0 or higher to function. The app requires access to identity details, contacts, SMS, phone, photos and other media, storage, WiFi details, device details, and call information. The app can be downloaded from the Google Play store and Apple App Store right now.
SOURCE: Google Play, iOS