Xbox 360 WiFi 802.11n adapter to be $100 says tipster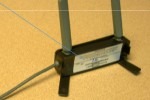 Microsoft's Xbox 360 WiFi 802.11n adapter, tipped in another leaky FCC filing, will apparently be priced at around $100 when it lands later this year.  The WiFi-n adapter will seemingly go on sale alongside, rather than outright replace, the existing version, which will see a discount to $79.99.
The reason for the two-tiered approach is that the new adapter is required in order for sufficient wireless bandwidth for streaming 1080p high-definition content instantly, a feature Microsoft have promised from the Zune video store when.  The existing model only supports WiFi-g.
[via Electronista]