Xbox 360 TV Expanded Experience Made Official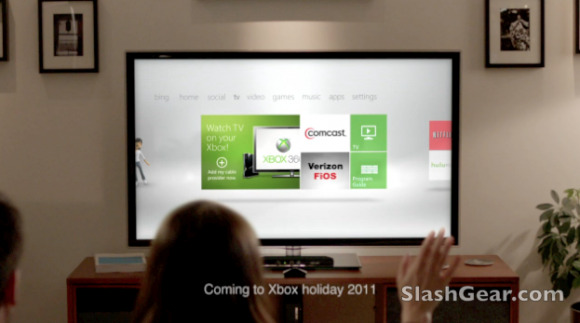 The folks at Microsoft have announced plans today to expand their Xbox 360 and Xbox LIVE functionality to include a slew of new services, partners, and functionality. More than 20 countries are involved in the rolling out of this expansion, partners ranging from HBO to Verizon to the BBC to Televisa, everyone's in on it! There's a unified dashboard for Xbox LIVE, Comcast Xfinity integration, 26 new channels of live TV in the USA, further Bing search integration with voice-powered search, "more entertainment options" including Zone marketplace expansion with Xbox LIVE and Kinect, a handful of new apps, sharing, and music discovery. Is it time everyone jumped aboard this Xbox 360 as entertainment station train? Quite possibly yes!
Amongst the more than 20 countries launching this set of updates are Bravo, Comcast, HBO GO, Verizon FiOS and Syfy in the U.S.; BBC in the U.K., Telefónica in Spain; Rogers On Demand in Canada; Televisa in Mexico; ZDF in Germany; and MediaSet in Italy. A total of 50 new partners in TV have joined this push for the Xbox 360 to become the ultimate living room companion.
On-demand media
You'll now be able to access markets and streams (as well as your own owned media) with great ease, TV, movies, games, sports video, music, and more. Gesture control of all of your menus with the Kinect allow you to access what you want with a whaft of your hand, voice recognition allowing you to not have to move at all! Live TV is already included on the Xbox 360 via AT&T U-verse, as you know, now this offering is blown wide open by additional partners including, but not limited to, the following:
BBC, Channel 4, Channel 5 and LOVEFiLM in the U.K.; Antena 3, RTVE and Telefónica in Spain; Televisa in Mexico; and Bravo, Comcast's Xfinity On Demand service, Crackle, EPIX, Syfy, TMZ, "The Today Show," UFC, Verizon FiOS and HBO GO in the United States.
Sports coverage is expanded to include such partners as ESPN in the USA, UFC, GolTV, and Maple Leaf Sports in Canada. All this is in addition to the awesome games and apps collection already available via your Xbox 360 connected with the Apps Marketplace – all this connected with the new unified dashboard for Xbox LIVE – so pretty!
Highlights Gallery
Voice Commands and Social Connectedness
There's an odd – but neat – new voice command system in place that uses a combination of keywords to get you what you want. You'll see it in the presentation video in this post, but here's another taste:
Having trouble finding last night's episode of "The Office"? It's now only a voice command away. Just say "Xbox, Bing, 'The Office,' " and Xbox finds it.
Microsoft is also pushing their social network connections in this release, noting that you'll be able to share everything from your game achievements to your music choices straight to Facebook. Whether or not groups like Google+ will be involved at this point is not known.
Sound exciting to you? Have a look at that video and see what you think!
[VMS a2150ba2210ba1b51d24]