Xbox 360 to come in limited edition Gears of War 3 flavor on September 20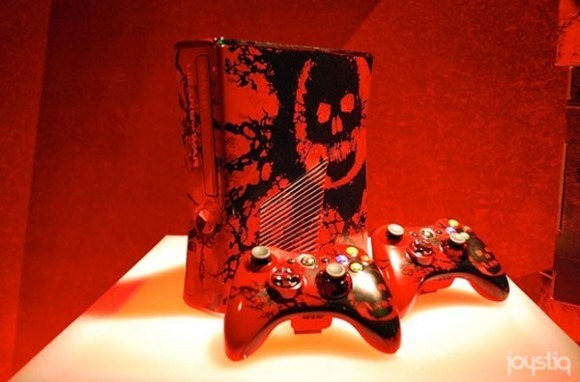 I would wager that today the vast majority of the gamers out there that want an Xbox 360 have one with the length of time the console has now been on the market. There are still those gamers out there rocking the old fat Xbox 360 or sitting on one that has died for one reason or another that might want to upgrade. If you are in the market for a new Xbox 360 a special and very cool looking Gears of War limited edition console will be coming on September 20 for $399.
Epic and Microsoft have teamed up to offer the limited edition console with red artwork with skulls that looks really cool. The console bundle will sell for $399 and will have special Gears of War sound effects, a 320GB HDD, and a pair of Gears of War 3 branded controllers that match the console. Naturally, the bundle will come with a copy of the GoW 3 video game too.
Other than the console, controllers, and game, the bundle also includes a headset and a couple pieces of DLC. That content includes the infected Omen Weapon pack, skins for the starter weapons, and the Adam Fenix character to play in multiplayer mode. The controllers alone will be offered on August 11 for $59.99.
[via Joystiq]