Xbox 360 Dashboard Update Beta In October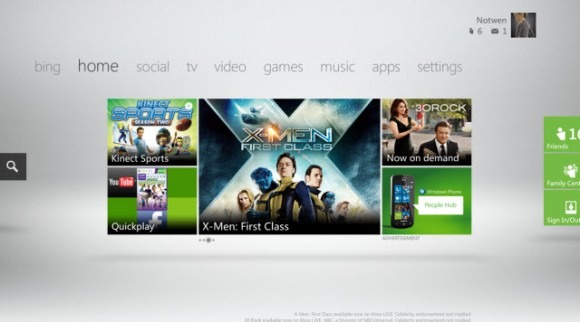 Microsoft is getting ready to launch a major update for its Xbox 360 dashboard later this fall, with beta testing to roll out in October. The revamped interface will mean easier, faster navigation, and integration of more Kinect voice commands to search for movies, music, games, and more.
VentureBeat got an early preview and had generally positive things to say: "Overall, it's a big improvement on the user interface." The upgrade is all about making the process of accessing content much faster and making content more discoverable. This is especially important because of the growing amount of content on the Xbox 360, which has already gone way beyond just games.
The interface redesign looks like a step towards merging Xbox LIVE with Windows Phone 7 and Windows 8. The new dashboard interface uses large tiles that are reminiscent of the Windows Phone 7 Live Tiles and the scrolling is sideways rather than up and down, similar to what we've seen with the Windows 8 tablet UI.
The update also brings more Kinect integration for improved speech and gesture commands, a new Beacon feature for non-expiring game invitations to friends, a more integrated and less restricted Microsoft Bing search, and YouTube support.
[via VentureBeat]