X-Striker Extreme will blow you away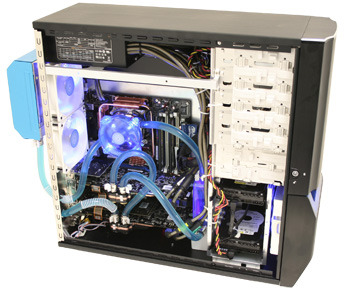 Yesterday I showed you a high-performance gaming laptop. But for those of you with way too much money to spend, and that like your gaming rig to stay right where it is, I figured I would show you a high-end PC.
ABS has released their X-Striker Extreme gaming PC. It's powered by an Intel Core 2 Extreme QX6700 overclocked to 3.5GHz with 2 GB of DDR2. For storage it has two 10k RPM 150GB hard drives, and a DVD burner. Graphics are handled by twin GeForce 8800GTX 768MB cards running in SLI mode. You'll have your choice of Windows XP or Vista.
Just how much will this guy set you back? With that configuration it is around $5,100. The folks over at Computer Shopper had the opportunity to test one and said that if you have the cash to spend, it is a worthwhile investment.
ABS Ultimate X-Striker Extreme [via computershopper]