X-Connect magnetic USB cord works with any phone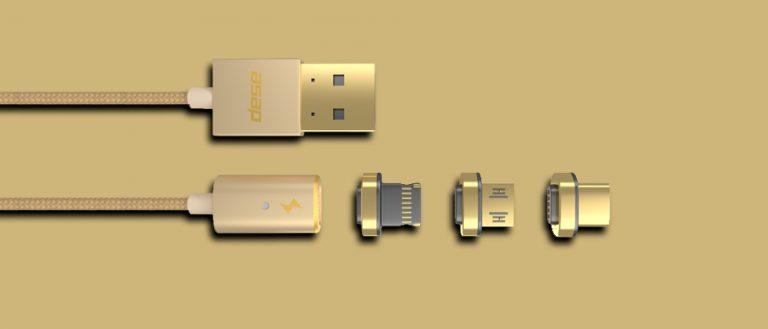 A fellow by the name of Vinson Leow had an idea for a smartphone cord that would replicate the better bits of the power cord for the MacBook. Apple is moving on to USB-C for power cords for notebooks, but it could be the perfect time for the mobile universe to pick up what's been left. X-Connect is a two-part device. One is a converter plug (a tiny plug) which fits into the smartphone. The other is a cord which connects magnetically to the converter.
The cord is being promoted mainly as a "cross-device compatible" cord, but the real kicker is the magnetism. This magnetism changes the way the user interacts with their smartphone – while charging – in several ways.
The user no longer needs to fiddle with pushing the cord in one way or the other. This is solved already on the iPhone and other devices that work with USB-C, but for those still working with micro-USB ports (most Androids), this solution solves that.
The user can plug their device in with one hand. Connecting is as easy as aligning the cord with the port and letting it attach itself.
The user no longer needs to worry about the cord being accidentally pulled, and the smartphone being pulled with it. It'll detach, just like the old MacBook Magsafe cord did.
The bit that we're skeptical about is the idea that this cord is able to charge – with speed – every single smartphone in the universe. Different plugs have different power converters and cords for a reason – but we'll just have to wait and see.
Another potential problem is the so-called "Alpha Tip" this system works with, made for Apple devices. This is not a Lightning cord – it looks sort of similar, but it's certainly not Apple approved.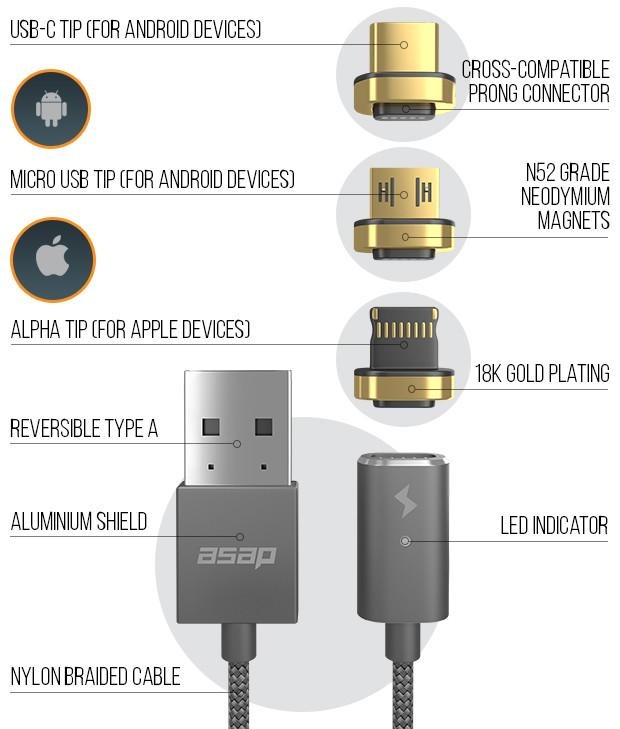 On the other hand, Vinson Leow suggests that this cord system has been approved by the FCC (for the USA), CE (for Europe), and RoHS for assurance that hazardous materials are not used in the manufacturing process.
Also of note – this is the second Indiegogo campaign for this line of cords, the first called ASAP Connect. This version "ASAP X-Connect" is an advanced version – sort of like a second wave, or a refresh.
Have a peek at this campaign at Indiegogo right this minute.