X-Arcade announces PS2 to Xbox 360 adapter for X-Arcade controllers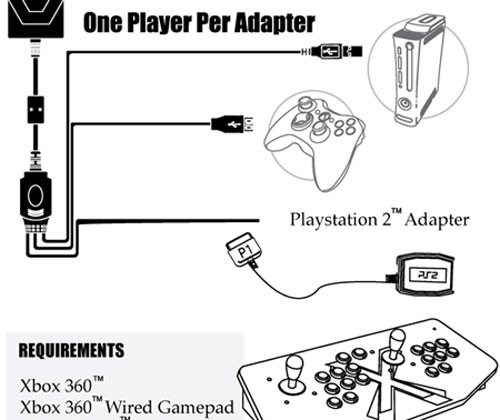 One of the things I remember most about arcade gaming when I was a kid was the big beefy controllers that the arcade games had. You could really pound away at the controls for games like Pac Man and Donkey Kong and playing the games on a gamepad today just isn't the same. X-Arcade makes a full line of old school arcade controllers for the PC and PlayStation but the Xbox 360 has been left out, until now.
X-Arcade announced a new PS2 to Xbox 360 adapter today that will allow gamers to use the X-Arcade Solo, Dual, or Tankstick controllers with the Xbox 360 console. There are a few caveats to using the X-Arcade controllers with the Xbox though. According to the manufacturer you have to have a PS2 device (presumably that means console) or a PS2 adapter for the X-Arcade.
The PS2 adapter along with the Xbox 360 adapter costs about $40. It appears from the images that the Xbox adapter plugs into the PS2 adapter to allow the controller to function with the console. Each Xbox player also has to have their own wired Xbox gamepad. My Xbox didn't even come with wired controllers.