Of all the things a wearable can accomplish for you, checklists may be your fork in the road. A good one will light up with timely notifications, then slip off into nowhere. A bad one will either linger on the wrist, or be unreliably faulty. With the Apple Watch, we'll likely see a series of to-do apps meant to get you accomplishing stuff. Wunderlist, one of the better options for simple task management, is announcing their foray into iOS wearables, and giving us all a closer look at what makes their Apple Watch app tick.

A four-button array get you started, where you'll have access to starred items, your 'Inbox', an agenda for the day, and list items form shared lists assigned to you. As is Apple's aim with Apple Watch, Wunderlist says you'll be using your phone a lot less:
Very early on, we decided that Wunderlist for Apple Watch shouldn't try to do everything you can already do on your phone, tablet or desktop. Instead we wanted every interaction with Wunderlist on the Watch to be hyper-relevant and personal.

As you move through the day, you won't even have to open Wunderlist on your Watch to get stuff done. Just take a look at our Glance during breakfast to review your most important to-dos for the day. Thanks to Wunderlist's real-time notifications, a subtle tap on your wrist will let you know what your colleagues are working on during your morning commute, and remind you to pick up the milk on your way home from work.
If you don't use an app to get through your day-to-day routine, Wunderlist might be a good option. With Apple Watch, Wunderlist wants to remove the hurdles or getting into a big, fuzzy app to check a few items, leaving you with access to just a few things at a glance.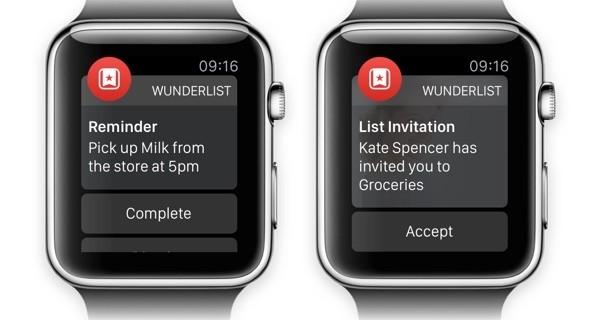 Wunderlist is also available for Android Wear, but acts more as a pop-up reminder workaround that full-fledged app.
Source: Wunderlist