WS620 Bluetooth Walkman Is Rugged Enough To Keep Up With You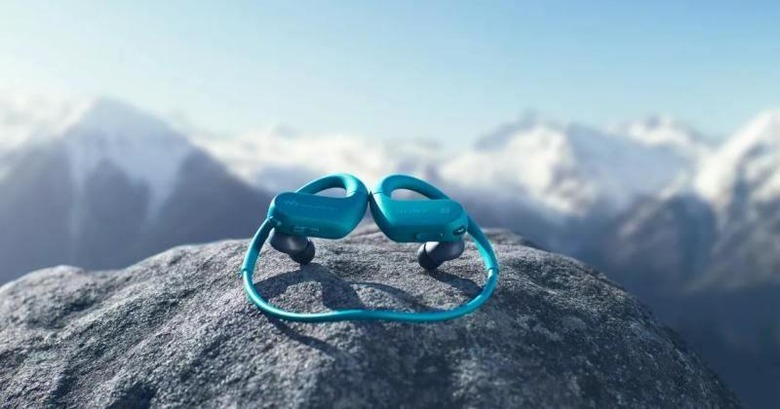 When you're working out, whether in a gym, running outside, or even swimming, some music helps you keep out the monotony and, ironically, keep you focused. Those activities, however, require you to have equipment that can withstand the forces of nature just as well as you. That's the promise that Sony is making by launching its new Walkman WS620 series of Bluetooth headphones. Their light and lithe appearance belies the fact that these audio accessories are made to weather snow, sun, sea, water, and, of course, sweat.
The NW-WS623 and NW-WS625, the first members of this new Walkman line, both boast of high IP65/IP68 dust and water resistance grades. That means the headphones are a perfect beach workout companion and can even be used when taking a short dip in the pool, as long as you mind the 2 meters and 30 minutes limit. However, it should be noted that, at least for the WS623, the Bluetooth functionality doesn't work under water.
Good thing, then, that both have internal storage so you can enjoy your music or podcasts even without an audio source nearby. Simply connect the Walkman to the PC, drag and drop your files, and go. The WS620 series has built-in support for MP3, FLAC, Linear PCM, and non-DRM WMA and AAC.
But when you do want to let the outside world into your workouts, a simple press of a button activates Ambient Sound mode. This lets you become more aware of your surroundings or talk to someone without having to remove the headphones.
The Walkman WS620 series will be available in color choices of black, blue, lime yellow, and grayish white. Exclusive to the NW-WS625 is a Remote Commander that you can fit over your finger, giving you full control at your fingertips, without having to reach for your earpiece.
SOURCE: Sony