Wrath of the Lich King beta invites are going out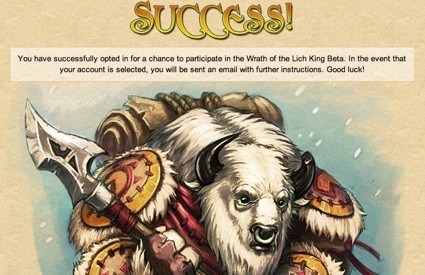 In case you are one of those people that only checks your email every so often, you might want to be doing so just a little more. If you're a WoW player and have signed up for the Wrath of the Lich King beta, you'll be happy to hear that invites are finally being sent.
Of course if you haven't gotten that wonderful email (I haven't either), don't fret, as they're going to keep sending them out until the beta ends. If you didn't remember to sign up in the first place, registration will be open until the beta closes as well. You can register here.
There's really no way to ensure that you're going to have better odds of getting a key. You could have purchased a special WoW Dell XPS which gave you instant access to the beta. Everyone else is picked at random.
[via WoWinsider]