WowWee Femisapien routine programming demo videos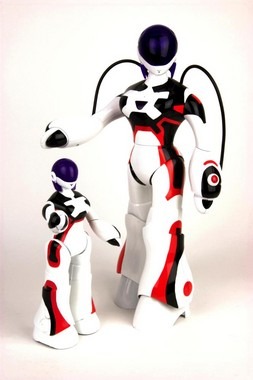 WowWee have been showing off the latest moves by their upcoming Femisapien robot, the first "female" 'bot in their stable and certainly the most graceful (and also recently seen using the Sega Toys E.M.A. Robot name).  After the cut you can see two new videos, the first explaining how custom movement routines can be programmed simply by moving Femisapien's limbs around, while the second shows a staged fencing match between two of the robots.  Comprising five motors with a total twelve degrees of freedom, Femisapien can be left to explore and react to her surroundings (in 'Attentive' mode) or programmed and these routines replayed (in 'Learning' and 'Responsive' modes).
Different behaviour modes are accessed by tilting Femisapien's head in different directions.  You can also use an original Robosapien remote, or four-way joysticks on each of her hands, to go through the 36 different functions or 20 routines WowWee pre-programme.
In the second video, it's important to note that the two robots aren't actually tracking each other's movements.  In fact, while Femisapien can respond to music, touch or sight (or using radar vision effective up to 1.2 feet away), or be controlled by IR (or in fact control other WowWee robots by the same method), here the fencing moves are scripted. 
Scripting Femisapien:
Fencing Femisapiens:
[Thanks Robert!  More info on Femisapien at Robots Rule]