Wow Stuff teases robotic toy it calls the "greatest toy in the universe"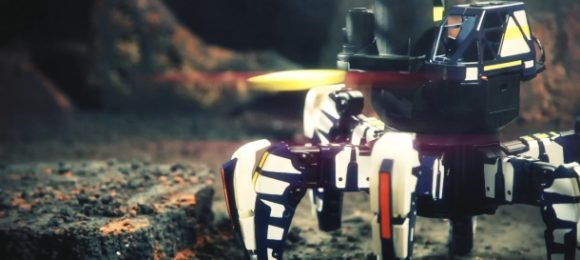 When it comes to toys, pretty much everything claims to be the coolest thing you've ever seen. They have to. That's how they lure in weak-minded parents who succomb to their child's every request. But based on the fact that this particular toy is the subject of a YouTube video that reached around 500,000 views in a single day, its manufacturer may actually be onto something.
Wow Stuff calls it the "Greatest Toy in the Universe," but that's just a working title for now. The toy itself hasn't actually been named yet but it's already getting a lot of traction. So what is it? It's a toy robot that can go into battle with a variety of different weapons. The little robots can shoot ping pong balls, flying discs, or darts. They can also be customized with removable armor.
It's all remote-controlled, and the idea is to have two or more of them duke it out in a Real Steel-esque battle royale. Creator Jaimie Mantzel has become almost as popular as the toy itself. In the teaser video for the robotic toys, he says, "No one at the stores, or in marketing, care whether or not a toy is awesome. They don't care if it's cheap junk with wheels on it that shouldn't be there," he admits. But his creation is different. "There's no reason anyone should ever have to take something home and be disappointed," he says. Right now, users are able to submit their own ideas for what the toy robots should be called. They're due out in time for the 2012 holiday season.
[via Cnet]