World's longest EV trip ends in Australia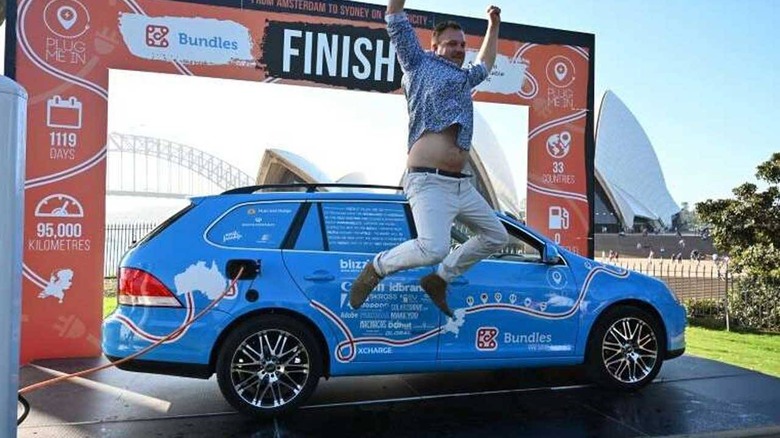 Some EV drivers have range anxiety that keeps them from driving their cars very far from home. A Dutchman called Wiebe Wakker has just finished a long road trip that saw him, and hs retrofitted station wagon EV drive 95,000 km, or about 59,000 miles. The feat was completed over the weekend.Wakker calls his retrofitted EV wagon "The Blue Bandit," and he drove the car across 33 countries in what he claims to be the world's longest-ever journey by electric vehicle. The trip started in the Netherlands and ended in Australia and took just over three years to complete.
Public donations funded the entire trip, and the funds were used for all sorts of necessities, including electricity to charge the car, food, and sleep accommodations. Wakker drove the vehicle in a variety of environments and countries including Turkey, Iran, India, Myanmar, Malaysia, and Indonesia.
Offers received via the website determined the exact driving route the man took. Details on the converted EV are scarce; it appears to be a VW wagon of some sort. Wakker says that before converting the car to electric power, it would have burned 1,800 gallons of fuel.
The modified EV can go 200 km on a charge, and the man says that for the entire trip he spent only $300 on electricity. Much of the electricity expenses came in the remote deserts of Australia. Otherwise, he used free electricity given to him by people via the website it seems. He says that he traveled "without money" and relied on the kindness of others. Wakken did engage with sustainable initiatives on his trip including working with various organizations and companies to highlight environmental challenges.