World's largest glasses-free 3D display shown in Japan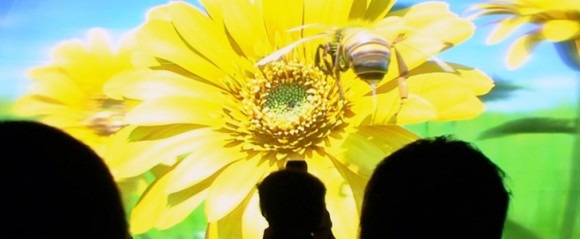 Japans' National Institute of Information and Communications (NICT) along with JVC Kenwood have jointly developed a 200-inch auto-stereoscopic Full HD 3D display, which is being touted as the world's largest glasses-free 3D display to date. The screen allows you to watch a video from 57 different angles, which means that you can even see the sides of 3D objects.
The 200-inch display weighs about 500kg or 1,100 pounds, incorporating a condenser lens that focuses the light for sharp images along with a special diffuser film that creates a smooth transition between different viewing angles. It uses 57 projectors in an array with each one tuned to create uniform levels of brightness and color balance. The viewing angles work in such a way that if you were viewing a square box, you could actually move to the side of the screen to see the side of the box.
At this point, the display is not being developed with the consumer market in mind, so we won't be seeing the technology implemented in consumer electronics anytime soon. Instead, the display is geared towards design and digital signage with plans to increase the 57 viewing angles to 200.
[via AkihabaraNews]