World's largest floating Christmas tree on display in Rio de Janeiro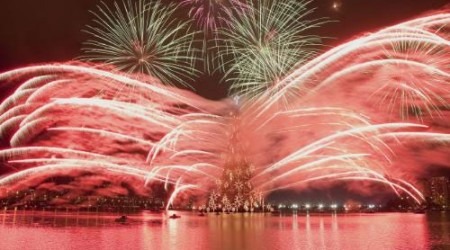 If you think that your Christmas tree is big, you haven't seen anything. The Guinness Book of Records has certified the Bradesco Seguros Christmas Tree as the largest floating Christmas tree in the world. The massive tree decorates the Rodrigo de Freitas Lagoon in Rio de Janeiro and has been placed there since 1996.
The massive tree was lit on December 4 and will remain on display until January 6. The lights on the giant tree will be turned on each night at 7:30. The tree has lots of lights that glow in fifteen sequential patterns and the total amount of lights on the massive tree is 105 kilometers with 3.3 million miniature bulbs. The tree also has 2100 strobes that simulate twinkling stars.
The tree is 85 meters tall, which is the same height as a 28-storey building. Power form the massive tree comes from six biofuel generators that produce 2130 kVA of power. That is a lot of juice to run a single massive Christmas tree. I'd hate to be the guy in charge of making sure all of those lights work. If one bulb went out you would have a mile of lights that don't work.