World's First Hybrid Blu-Ray / DVD Disk Title Released In Japan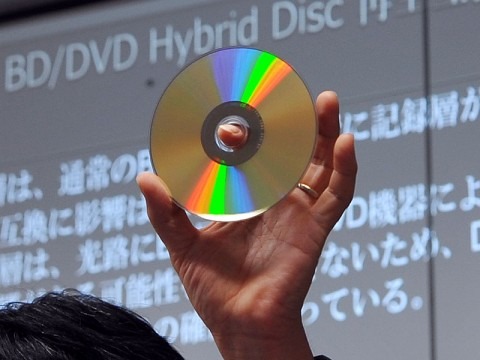 Victor JVC formulated the first hybrid Blu-ray/DVD media (BD-25GB/DVD-9 8.5GB) but the technology was never put in good use even in the time of Format War. Infiniti storage media picked up the equation, partnering with Co-Tv (Both Japan-based companies) to launch a TV-series show authored in a new breed of hybrid Blu-ray/DVD format- disc that is regular DVD
on one side
and Blu-ray
the other
movie on one side.
The first title to honor the new kind of technology is a Japanese TV-series drama "Code Blue emergency helicopter doctor Blu-ray BOX". The hybrid disk consists of single layer (25GB) BD and Dual-layer (8.5GB) DVD on
each
one side. Its standard is BDA certified but has not been approved by DVD-forum due to a potential compatibility issue from certain DVD players that are made in other countries, according to the press release.
The released titles, however, posted a 100% compatibility test in its company test group of 64 units from PC drives, DVD and Blu-ray players. The company also said they have achieved a dual-layer (50GB) BD and single-layer (4.7GB) DVD and is in the progress from BDA approval.
[Article corrected : Disk is one side not a dual-side]
The BD/DVD version of the TV show has 4 discs, content are encoded in MPEG4-AVC while the legacy DVD release has 7 disks. Both features 534 minutes of playable content.