World Record for farthest hoverboard flight measures 7,388-feet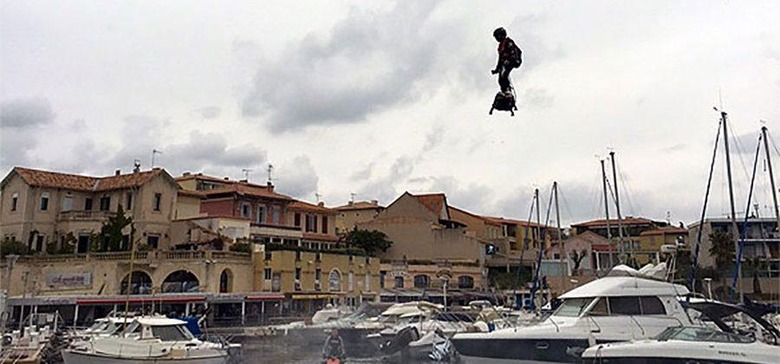 Franky Zapata has grabbed a new Guinness World Record title for the farthest hoverboard flight ever recorded. Zapata went 7,388-feet absolutely destroying the previous record held by Catalin Alexandru Duru of 905-feet, 2-inches set last year. These records are for actual hoverboards that fly, not for the small two-wheeled contraptions that burst into flames frequently.
Zapata piloted the hoverboard at a height of 50-meters above the surface of the water right off the coast of Saussett-les-Pins in France. The pilot was trialed by a jet ski and a boat in case the flight ended with the pilot in the water. The flying machine used in this record is called the Flyboard Air and was developed by Zapata Racing.
The designer of the flying machine claims that it can reach 10,000 feet and has a maximum speed of 93 miles per hour. Zapata Racing previously developed a version of the Flyboard that connected to a personal watercraft turbine using a long hose. The new Flyboard Air uses an "Independent Propulsion Unit" to fly needing no hose. Exactly what the propulsion unit consists of is unknown.
It appears to use some sort of small ducted rotors and Zapata Racing says that the Flyboard Air can stay aloft for ten minutes at a time. It's unclear if this is an electric aircraft or if it uses some sort of internal combustion engine. Official video from the Guinness Test isn't offered, but there is a video of a test flight on YouTube, which can be seen below. That video was believed by many to be fake, but the same people set the record with a Guinness World Records adjudicator called Sofia Grenache on hand to watch. Zapata previously held a record for the most backflips with a water jet pack in one minute having performed 26 of them. That record was beat last summer.
SOURCE: Guinness World Records