World of SwiftKey statistics reveal odd trends galore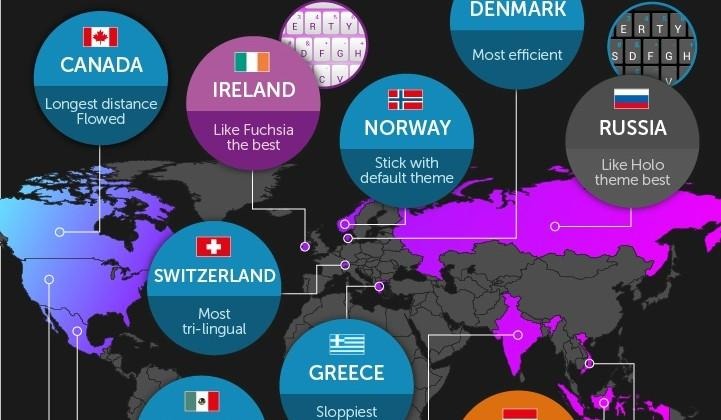 This week the folks at SwiftKey have revealed their newest worldwide trends chat, this time calling it "World of SwiftKey". This chart shows a collection of top notches in the countries that've beaten the rest for one reason or another inside the Android keyboard app – the most popular downloaded 3rd party keyboard app in the world, mind you. It all begins with the USA holding the record for Most SwiftKey Users – we won!
This chart also shows that Canada has flowed the furthest – this means they've used the "Flow" feature the most since it was launched in the newest iteration of the SwiftKey app. Down in Vietnam it appears that statistics are being shared the most, while India is the country that "loves Flow the most" – flowing the longest and love are different things!
Even though the USA has the most SwiftKey users, Mexico has done the most typing with a SwiftKey keyboard. Russia has chosen the Holo theme the most while Indonesia uses Pumpkin and Ireland works with Fuchsia! Greece is said to be the sloppiest typists while Denmark rings in as most efficient. Finally you'll find Switzerland to be kicking it tri-lingually the most in the whole world.
Have a peek at our SwiftKey history for more information on this lovely keyboard for your Android device and be sure to let us know if you're using the newest build right this minute! Today's study has been brought to you by SwiftKey's completely anonymous statistics collection service – you've taken part even if you didn't know it!
[via SwiftKey]