Works With Nest reveals a load of new connections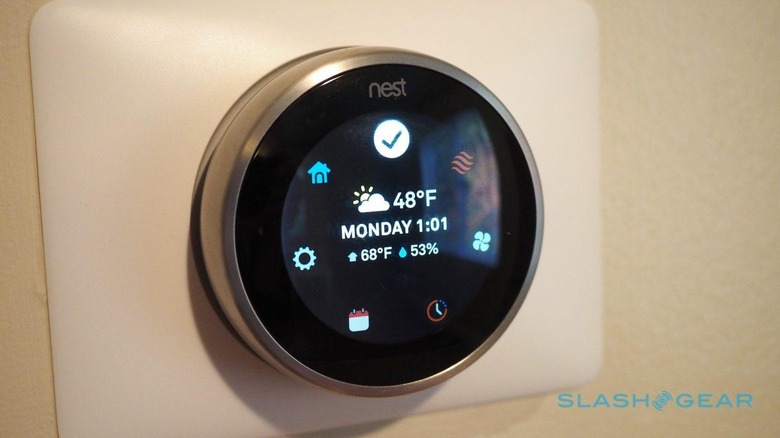 The folks that work on software with Nest have revealed a whole lot of new collaborators in their "Works with Nest" initiative. This includes the Nest Cam, the Nest Learning Thermostat, and Nest Protect, the lot of which have found new bits of software and hardware to work with over the past few weeks. This is part of a new API sent to developers this month, giving developers new abilities and potential for feature integrations.
For the update, developers will be allowed to create interactions that allow users to grab Snapshots – that's with Nest Cam, obviously. This update adds the ability to let users know when their Nest Thermostat is Locked and the range it is in. One final bit for the update includes Activity Zone support – this lets users see activity that occurs in specific Nest Cam viewing areas, sending notifications as they're required – this only works for Nest Aware users.
Each of the main Nest devices have a new set of integrations thanks to the Works with Nest program.
Nest Proect has a new team-up with SkyBell, allowing Nest Protect to turn the SkyBell button red whenever Nest Protect senses a smoke or CO event.
The Nest Learning Thermostat is teaming up with Waxman – the thermostat can send notification to your leakSMART app, giving you access to emergency contacts in the event of an emergency. Nest Learning Thermostat has also teamed up with Misfit to turn your home warm just before you wake up.
User of the Nest Learning Thermostat can connect with Febreze Connect, turning on your fans to help circulate "fresh scents" through your home when you wish it. A new Lutron pairing has the Nest Learning Thermostat tell your Lutron Caseta Wireless device to turn your lights off and close your blinds when you're away.
Nest Learning Thermostat has a new Belkin Wemo connection, turning your lights off when it's detected that your house is empty. Nest Learning Thermostat's new AT&T connection allows you to check in on your home remotely and adjust your thermostat remotely via the AT&T Digital Life app.
Nest Cam has new connections to August, LIFX, and simplehuman. With August, you'll be able to see who's at the front door (with the August cam) and whatever the Nest Cam sees, all through the August app.
LIFX bulbs are now able to turn on whenever your Nest Cam senses motion in an Activity Zone. The Nest Cam can capture light settings and recreate them in your simplehuman sensor mirror pro – weird!