Wolfenstein: TNO gameplay trailer and release dates hit the train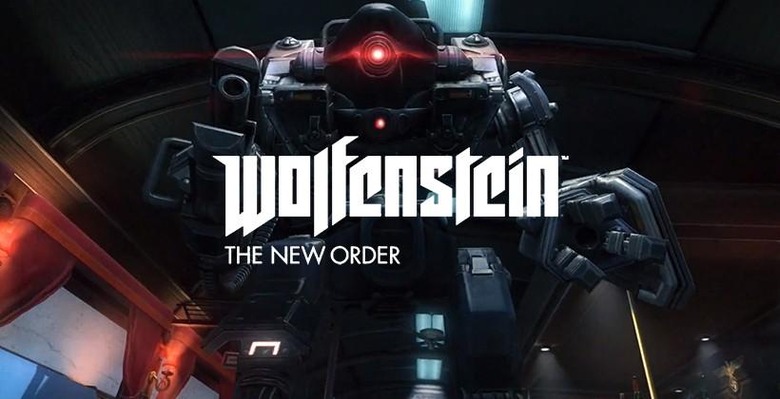 It's now been made clear that the game Wolfenstein: The New Order will not only be a worldwide launch of a game, but a simultaneous worldwide launch as well. In North America, Europe, and Australia too, you'll find this game releasing on May 20th, 2014. Also pushed today was the first gameplay trailer – right off the bat and we're already in the game – and it looks terrifying.
Inside this newest Wolfenstein game, you're in a world where the Nazis have won. It's the 1960s now, and the Nazi party has won with "mysterious advanced technology" – the likes of which you'll have a glimpse of in this first trailer. Hop aboard this train and feel the pressure you might only have otherwise felt in Inglorious Basterds under the jackboot of Christopher Waltz.
"Check out B.J. Blazkowicz as he first encounters one of Wolfenstein's most-sinister villains, Frau Engel, on a train from Poland en route to Eisenwald Prison."
Above you're also seeing the gameplay trailer "BOOM BOOM" as released initially last month. Below is the first announcement trailer for Wolfenstein: The New Order as released a whopping 10 months ago – it seems like only yesterday!
This game will be rolling out on Xbox One, PlayStation 4, Xbox 360, PlayStation 3, and PC all at the same time. Such a feat is one we'd only expect a set of companies like MachineGames and Bethesda to be able to pull off.
This week the game is on pre-order for all platforms, and every single order includes access to DOOM in Beta form. This is not some old, pixel-filled DOOM, mind you, it's the newest DOOM, also known as DOOM 4, and it's out there right now! Wolfenstein: The New Order is settling in with the standard $59.99 USD fare we've seen most games released at over the past year or so, and we'll expect the lot to ship for arrival on May 20th.
BONUS: Above we also have the latest installment of the Bethesda Underground video series, 'Know Your Devs'. This video shows MachineGames' narrative designer Tommy Tordsson Björk speaking on his involvement in Wolfenstein: The New Order, one bit of which includes the gameplay you see above.