WMF1 Coffee Pad makes just one cup of java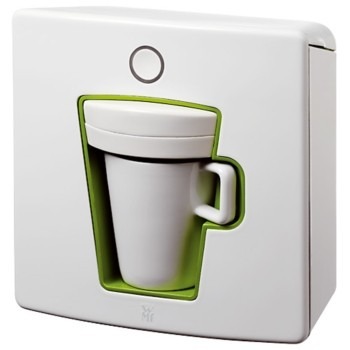 Clearly, making a single cup of coffee isn't all that new of a concept, but how you do it can win you awards. Such as the 2007 Red Dot award the creators of this coffee maker won.
I am not a coffee drinker, I give it a go every so often just in case my tastes might have changed, but they never do, but I am a big fan of highly attractive consumer appliances such as this one. There is a single cup, and it takes a pre-measured 1-cup's worth of coffee filter.

It comes with the mug and you get your choice of one of the 4 accent colors. Now its meant to set on a table, counter, maybe desk, but I think it would look absolutely amazing if someone could figure out how to build it into the wall. Its only available in Europe with their 220-volt plug so you will have to buy a travel adapter, but first you have to come up with the $198 bones to buy one of these things.
Wmf coffee pad: just one cup of joe, please [via technabob]