With aptX Adaptive, Qualcomm just gave the otherwise semi-stagnant technology of Bluetooth audio a kick in the pants. Standard Bluetooth audio is encoded at one size, and delivered to speaker devices in the same manner, regardless of the application or situation. With aptX Adaptive, the device sending the sound can encode sound information in a bunch of different sizes, dependent on the environment and sonic requirements of the user.
Qualcomm was behind the release of the sound compression algorithm called aptX. This technology works with Bluetooth to make data transmission fast, keep Bluetooth audio consistant, and to support high-quality sounds for the end user. Over the past 25 years, just two additional versions of aptX were released by Qualcomm.
One is aptX Low Latency – which supports different data rates for different situations – like pro gaming. Another is aptX HD – which supports slightly higher quality audio – and bigger file sizes.
• aptX: 48kHz / 16bit LPCM audio data
• aptX HD: 48kHz / 24bit LPCM audio data
• CD quality: 44kHz / 16 bit
• aptX: 354kBit/s
• aptX Low Latency: 276kBit/s & 420kBit/s
When audio stands on its own – like with a music album, aptX HD works best because it provides the highest quality audio. With a video game or a movie, you'll want audio to be transmitted as fast as possible. For quick audio transmission you'll want aptX Low Latency, because you need the audio to sync with the video or the video game.
Things just changed with the release of aptX Adaptive. "aptX Adaptive is advancing our industry as it is designed to deliver audio quality that matches wired performance across a wide range of sources and to provide consumers with the immersive wireless listening experience they are looking for," said Anthony Murray, senior vice president and general manager, voice & music, Qualcomm Technologies International, Ltd.
"With this new product, listeners don't have to do anything while aptX Adaptive dynamically adjusts performance to best deliver exceptional audio whether the user is playing games or listening a song."
With aptX Adaptive, users will find that audio format remains 24-bit and 48 kHz, and that all earlier aptX and aptX HD enabled devices work with new aptX Adaptive devices.
Data rates are 276kBit/s & 420kBit/s for aptX Adaptive, which might at first seem strange since aptX HD works with up to 576kBit/s. That might seem like aptX HD is getting bigger files (which generally means it has better quality), but here aptX Adaptive has a compression ration of 5:1 – 10-1, better than ever before, providing the ability to transmit the same quality in a smaller space.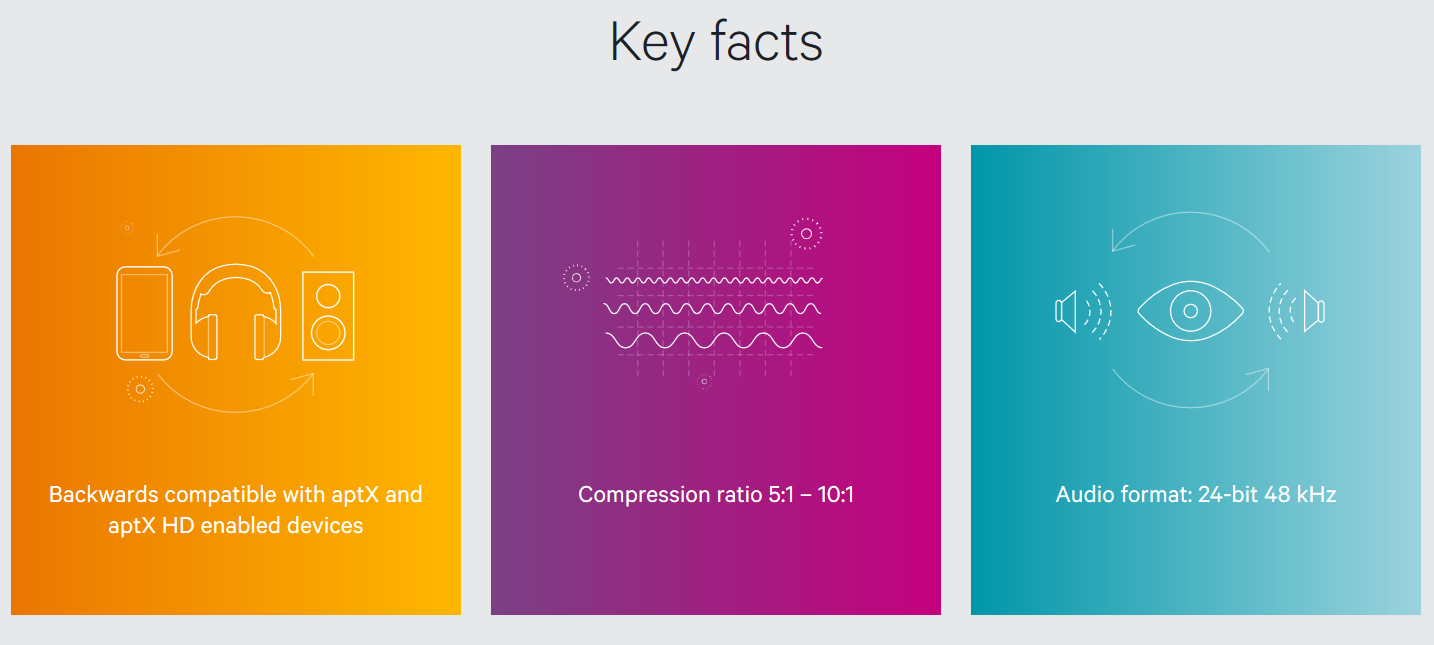 Basically aptX Adaptive is the best of everything Qualcomm delivered in each past version of aptX. And now it's able to work with the encoding device to discern the situation and the environment to provide the speed and compression that best suits the user. And it does all of this automatically.
Or at least it will once its implemented in Android 9 Pie later this year. Also aptX is not part of iOS at the moment, but is part of one whole heck of a lot of Android devices – just so we're clear here.
Qualcomm's aptX is a licensed technology that requires manufacturers to list on their respective product boxes when using. As such, you'll find the aptX logo on the box of every device which has aptX support. This was true of each version of aptX thus far – and it'll be true of aptX Adaptive when it's ready to roll on devices later this year.