Wireless Speaker Podz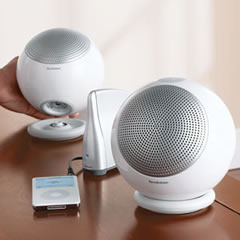 Unless you are super obsessive about the quality of your audio, you should consider going wireless with your speakers. Why get in a messy tangle when you can just plug your iPod or some other Mp3 player into a transmitter and let the wireless magic do the rest. Set your speakers free with the Podz, a new set of wireless speakers that sport a fashionable retro look..
Connect your mp3 player to the transmitter and take your speakers anywhere within a 150-foot radius. The sound signal travels along a frequency band of 900MHz, bypassing walls, and automatically adjusts itself to the optimum frequency.
Retro Podz speakers go wireless [Via: MobileMag]