Wireless Remote Control hides in PCMCIA card slot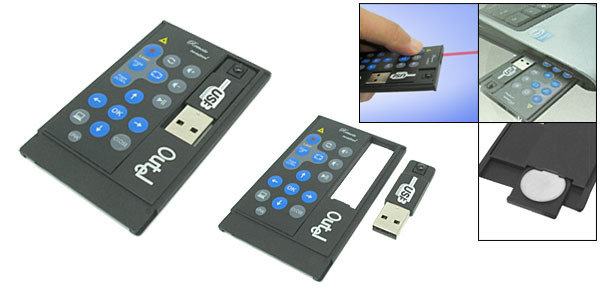 Aftermarket gadgets that fit inside empty space in your laptop always appeal to me for some reason, so I gently approve of this Wireless Remote Control that slots neatly into a spare PCMCIA slot.  Using a proprietary wireless tech – with 30m range, mind – rather than, say, Bluetooth means you need a USB dongle, but even that has been squashed into the remote's casing.
As well as media control buttons like play/pause and track skip, there are page control keys, arrow keys and even a laser pointer to control your PowerPoint presentations.  There's also support for custom user-set keys, and a dedicated help button.
Best of all is the logo, though, which seemingly brands the remote as "Outel" with a particularly similar design to Intel's logo.  The Wireless Remote Control is available now, priced at around $27.59.