Wireless DisplayPort promised by WiGig and VESA partnership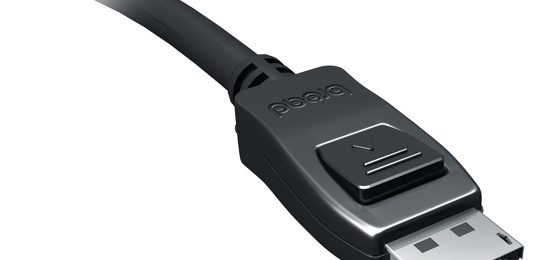 The WiGig Alliance has taken just enough time out of its busy wireless wig promoting schedule to partner up with VESA on a multi-gigabit wireless DisplayPort standard, which should eventually see a wireless alternative to regular DisplayPort that supports the same bi-directional speeds together with both audio and video data.  The complete DisplayPort v1.2 feature set will be supported, on everything from lower-power handhelds to tablets, notebooks, monitors, projectors and HDTVs.
The new wireless system will use the 60Hz band, and support HDCP 2.0 for copy-protection.  That ought to keep Hollywood and other content providers happy, which is pretty important if WiGig and VESA want to see the wireless DisplayPort standard take off.
Companies like AMD, Broadcom, Microsoft, NVIDIA and Dell have all signed up to the WiGig Alliance – you can find the full list here – and studios like Dreamworks are already making approving noises about the technology.  The first specifications for the new wireless DisplayPort standard are expected to be published in early 2011.
Press Release:
WiGig™ Alliance and VESA® to Collaborate on Next Generation Wireless DisplayPort

WiGig Announces Feature Complete Application Specifications to Provide WiGig Display, Bus and Serial Extensions

SAN JOSE, Calif. and NEWARK, Calif. – November 3, 2010 – The Wireless Gigabit Alliance (WiGig Alliance), the organization advancing the worldwide adoption and use of 60 GHz wireless technology, and the Video Electronics Standards Association (VESA), an industry leader in global display standards, today announced a cooperative agreement to define the next generation standard wireless display technology. VESA and the WiGig Alliance will share technology expertise and specifications to develop multi-gigabit wireless DisplayPort capabilities. A certification program for wireless DisplayPort products will be developed in parallel.

The ability to connect PCs and handhelds to monitors, projectors and HDTVs wirelessly is highly desired among consumers and IT users. The WiGig-VESA collaboration will deliver a wireless display capability with image quality and I/O experience equal to that of wired interfaces. This agreement will spur the development of a new ecosystem consisting of interoperable wireless display products, providing an effective wireless alternative to cables, docking stations and adapters.

"As a high-quality content creator in Hollywood, it is exciting to see the innovative solutions being offered by advanced wireless technology to fulfill the ever-increasing demand for anywhere, anytime content consumption," said Jeffrey Katzenberg, CEO of DreamWorks Animation.

"WiGig technology is a perfect match for DisplayPort since it provides the multi-gigabit bandwidth, packet architecture and bi-directional I/O capabilities needed to support the DisplayPort v1.2 feature set and beyond," said Bruce Montag, VESA chairman. "Wireless DisplayPort will enable new connectivity options in a wide range of devices, from lower-power handhelds to tablets, notebooks, monitors, projectors and HDTVs. We are thrilled to begin defining the specification and certification program for wireless DisplayPort products."

"With many proprietary wireless A/V technologies on the market, our vision is to standardize a wireless display interface, and we are excited to partner with VESA to extend multi-gigabit wireless functionality to DisplayPort technology," said Dr. Ali Sadri, WiGig Alliance president and chairman. "Combining our wireless technology and VESA's display expertise enables a high quality user experience with a certification program, enabling interoperability across CE, PC, tablets and handheld devices."

Feature Complete WiGig Application Specifications Announced

WiGig Alliance today announced the feature completion of the WiGig version 1.0 A/V and I/O protocol adaptation layer (PAL) specifications. The organization is planning to publish its specifications in early 2011. The application specifications have been developed to support specific system interfaces, including extensions for PC peripherals and display interfaces for HDTVs, monitors and projectors.

The WiGig A/V PAL (WiGig Display Extension) supports wireless transmission of audio/visual data. This implementation enables wireless DisplayPort and other display interfaces that include the High-bandwidth Digital Content Protection (HDCP) 2.0 feature. This PAL offers key A/V applications, such as the transmission of compressed or uncompressed video from a computer or digital camera to an HDTV, monitor or projector.

The WiGig I/O PALs (WiGig Bus Extension and WiGig Serial Extension) define high-performance wireless implementations of widely used computer interfaces over 60 GHz. These PALs enable multi-gigabit wireless connectivity between any two devices, such as connection to storage and other high-speed peripherals.

The WiGig Wireless Standard Gains Momentum

The WiGig Alliance continues to expand its roster of industry-leading technology companies with new members. AMD has elevated its WiGig membership level from Contributor to Board of Directors, and CSR and Nitero have joined WiGig as Contributors. For a list of WiGig Alliance members, visit http://wigig.org/membership/.

"AMD recognizes the growing trend for wireless display connectivity in consumer electronics. We joined WiGig to contribute our display expertise to the organization, and to help the Alliance deliver innovative solutions that can meet new market demands in a timely manner," said David Cummings, director, Technical Marketing, AMD Graphics Business. "With the momentum behind this innovative wireless technology and the potential we see in the organization, we view the WiGig Alliance Board of Directors position as strategic and are eager to help lead the organization's efforts."

For more information, visit www.wigig.org and www.vesa.org.