WindUp: Microsoft's Snapchat alternative for Windows Phone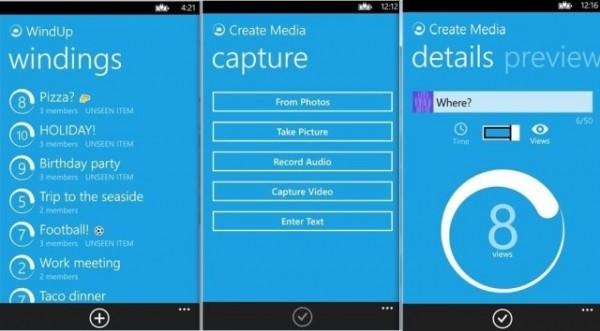 Want your daily selfies fix, but aren't so keen on Snapchat anymore after all the hoopla surrounding it? Microsoft has rolled out its own alternative — seemingly just for Windows Phone — called WindUp, and it's available now in the Windows Phone Store.
WindUp works in a manner similar to Snapchat, allowing users running Windows Phone 8 or 8.1 to send temporary messages (and media) to others using the app. The user is given control over how long the message will be available before disappearing.
The app supports messaging audio, video, pictures, and text, so there's a variety of options for getting out whatever you have to express. We downloaded the app to give it a quick run-through, and it proved simple to use.
After agreeing to the terms and conditions, users are prompted to sign in to their Microsoft account. From there, you're presented with a list of needed permissions: access to email, info (including gender, name, avatar, contacts, and friends), and automatic sign-ins. As Neowin points out, there's nothing about location.
From there, it is as simple as adding a "Winding" user and sending them a message.
SOURCE: Neowin