Windows Store mandates touch support, 5 app installs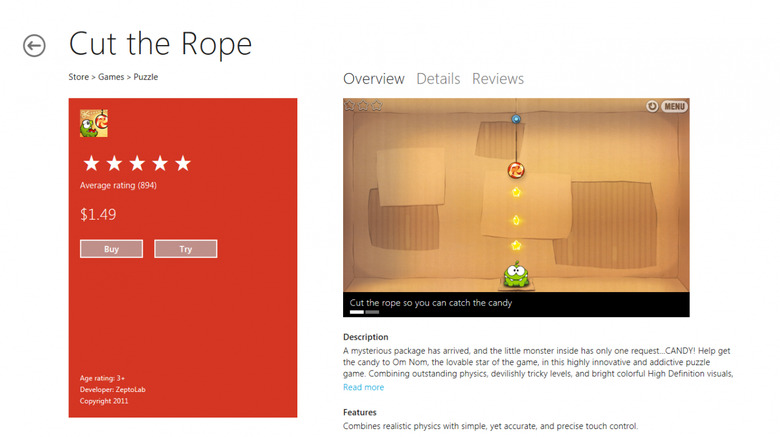 The Windows Store for Windows 8 will mandate touch- and gesture-support for all applications, allow users to install purchased apps on up to five computers simultaneously, and demand apps protect users from "unintentional large data transfers"; however, there won't be a cooling-off period for accidental downloads. Freshly announced this week, and arriving alongside the Windows 8 beta in February 2012, Microsoft's app store for the new OS brings with it a new batch of developer documentation for coders keen to get their wares inside. istartedsomething dug through to pick out the best bits.
Some of Microsoft's rules center on usability and consistency of experience across platforms, particularly when Windows 8 on ARM arrives (expected to be in mid-2013). The company's "Certification requirements for Windows apps" insists that "Your app must provide the same user experience on all processor types" or, if that's not possible, that developers need to submit separate versions for each CPU and detail the differences in the app description.
Meanwhile, apps "must fully support touch interactions" so that users can navigate "using only touch and gestures" as well as not using any gestures in a way that differs from native Windows 8 gestures. The "App Developer Agreement" details roaming, or multi-installs, with software limited to, say, only x86 or only ARM processors needing to be compatible across all such PCs using those kinds of chips.
If users attempt to install a purchased app on more than five devices simultaneously, one install will automatically be deactivated as per the "Windows Store Terms of Use"; it's unclear how Microsoft decides which that should be, whether it's simply the first to get the install or the machine on which the app has been used the least or the longest period ago. If you buy an app mistakenly, Microsoft isn't offering a "cooling off" returns policy unless one is required by law in your country.
Windows Store preview:
[vms 1d1c21bd1635f59edae0]