Windows Phone Store now has over 130,000 apps available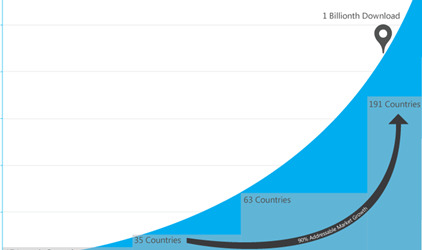 Microsoft has announced a new milestone reached by the Windows Phone developer community. There are currently over 130,000 apps available in the Windows Phone Store, with 15,000 of them designed specifically for Windows Phone 8 devices. That's still a long ways away from the 675,000+ apps offered by the Google Play store, and the 775,000+ offered by the iPhone's App Store, but progress is progress.
Since the launch of Windows Phone 8, Microsoft has seen the sales of its phones increase rapidly. In Q4 2012, Windows Phone sales quadrupled, and Windows Phones currently make up 10% of the market share in many countries. Also, because of the huge catalog of apps available for the Windows Phone platform, alongside the increase of Windows Phone sales, there has been a 75% increase in app downloads, and a 91% increase in paid app revenue. Microsoft states that the average user downloads around 55 apps, and that the Windows Phone Store has accumulated over 1 billion transactions.
The developer community for the Windows Phone platform has also increased greatly. Only 90 days after the launch of Windows Phone 8, there were over 40,000 developer registrations submitted to Microsoft. Also within 4 months of the Windows Phone 8 launch, the Windows Phone SDK has been downloaded over 500,000 times. It does help that Windows Phone developers receive benefits from many of Windows Phone's partners.
Box offers developers 25GB of free cloud-storage, and access to administrative controls and Box's content management controls that allow developers to easily integrate its features into 3rd party apps. Buddy offers developers 6 months of free use for its services, which allows developers to implement messaging/chat features, user account systems, geo-location support, photo albums, and Live Tile support into their apps and games. Last, but not least, Photon Cloud allows developers to use its services free for 6 months in order to build real-time multiplayer games that include features like matchmaking.
Microsoft still has a long ways to go with its Windows Phone platform, but it's doing great so far. With the launch of its Windows Phone 8 devices, the adaption of Windows Phones grew rapidly, and it helped that Microsoft went all out in marketing with those devices. You can see Windows Phone 8 devices, and Windows 8 RT devices being used in a variety of popular shows like ABC's Revenge.
[via Windows]