Windows Phone comes 3rd in smartphones but Android keeps clear lead

Windows Phone has taken third place in the global smartphone OS shipments chart buoyed by Nokia's Lumia successes, new figures suggest, pushing BlackBerry into fourth place, but Microsoft's platform still languishes well behind Android and iOS. Google's Android is the clear smartphone OS marketshare leader, according to IDC, with a claimed 75-percent of the market in Q1 2013, while Apple's iOS has 17.3-percent.
That's a 79.5-percent increase year-on-year for Android, while iOS managed a 6.6-percent climb from its share in Q1 2012. Microsoft saw the biggest increase, however, up 133.3-percent over the course of 12 months, to hold 3.2-percent globally.
BlackBerry OS, however, declined 35.1-percent year-on-year, down to 2.9-percent. There's still a comfortable buffer over other platforms dwelling at the bottom of the barrel, but it suggests that BlackBerry 10 still has plenty of work to do if it's to leverage the company back into the mainstream.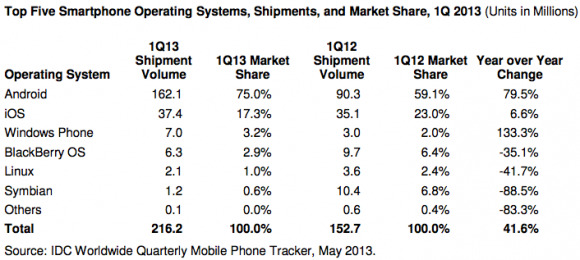 For Windows Phone, 7m units were supposedly shipped in the opening three months of this year. That's predominantly down to Nokia devices; the Finnish company shipped 5.6m Lumia Windows Phones in the period, making it the most popular vendor for Microsoft's mobile OS. Nokia's expectations are high for Q2, too, with estimates of as many as 7m sales by some analysts.
In Android, Samsung dominates the segment, with 41.1-percent market share of smartphones overall. Earlier this week, Strategy Analytics estimated Samsung devices comprised 95-percent of Android smartphone sales.
"The intra-Android competition has not stifled companies from keeping Android as the cornerstone of their respective smartphone strategies," IDC concludes, "but has upped the ante to innovate proprietary experiences."
For Apple, it's the company's most impressive volume for iPhone sales, but IDC blames iOS stagnation for lower year-over-year growth than the market as a whole. That's likely to change, it predicts, when iOS 7 debuts later in 2013.