Windows Phone 7 Series hands-on
Microsoft have officially launched Windows Phone 7 and with it the Windows Phone Series, promising we'll see the first devices on the market in time for the holiday 2010 shopping season.  Windows Phone 7 marks a new, more end-user aware phase for the platform, with Zune and Xbox integration, together with stricter controls over the overall end-user experience: third-party UIs, such as HTC Sense, will not be allowed (though OEMs will be able to add into the new WP7 UI), and while they're not yet revealing the details, Microsoft have a long technical specifications list for handset manufacturers that will better standardize the platform.
There are no handsets debuting today – though HTC, Dell and Qualcomm are among the manufacturers onboard – and all of the demo devices are unbranded, generic models specially built by ASUS.  Still, they're a decent example of what we can expect: a large, multitouch-friendly capacitive touchscreen with a glass front, three front-panel buttons (back, Start and search), GPS and a rear-mounted camera.  They also have a front-facing camera, though there won't apparently be support for it natively in Windows Phone 7, and OEMs are limited to what hardware controls they can add; it's pretty much down to volume buttons, camera shortcut and power.
What Microsoft aren't talking about is some of the other rumors we've heard: talk of no multitasking was met with stony silence (though they did confirm that you'll be able to play music in the background while doing other tasks), as was any timescale for Flash support, though Adobe have confirmed they're working on it.  In fact the focus at the show has been showing off the Windows Phone 7 UI, apparently the work of 12 months and a new team including alumni from Nike's design department.  Since users will be stuck with it, thankfully it's a pretty slick system; design team member Albert Shum described it as focusing on "content not chrome", and certainly there's less unnecessary detailing than you'd find on other platforms (or indeed earlier Windows Mobile versions).  It's based on the same premise as the Zune HD UI, with strong typography and slick animations – in fact Microsoft employed motion specialists to work on transitions – adding up to something the company hopes is clean, light, open and fast.  They're describing it as "Authentically Digital"; that is, recognizing that a Windows Phone 7 device is an electronic one, and searching for aesthetics in purity of purpose.
Windows Phone 7 Series hands-on video:
The on-screen Start button has been retired, and the hardware Windows flag now takes you directly to a blocky homescreen.  Each app on the screen is dynamically represented, pulling in the user's content and constantly shifting; the gallery icon, for instance, transitions through recent shots from the camera.  Microsoft contrasted it to the iPhone OS, where the extent of user app customization is rearranging the icon layout on their homescreen; Windows Phone 7, meanwhile, pushes up constant reminders of the user's content.  Swiping to the right, however, gives instant access to the entire app list, again something prompted by user requests for easier access.  Microsoft have created six "hubs" – People, Pictures, Games, Music + Video, Marketplace and Office – which collate similarly themed content.  So, the Music + Video hub resembles the Zune HD UI, and if you install a media plugin, such as Pandora (which Microsoft also announced today), it will integrate in here.  The Games hub links in with a user's Xbox Profile, and you can modify your profile, view those of others, and play games (though Microsoft haven't announced a list of titles yet).  The People hub pulls in updates from across the phone and various linked services – though we only saw Windows Live and Facebook mentioned – and you can post your own updates and read those of others.
Across each hub is a consistent UI, with large text running across the top showing what element of the hub you're in – unread, new and flagged emails, for instance – which Microsoft refer to as Pivots.  Swiping across that line flicks between the views.  At the bottom of the screen there are a few contextual buttons – such as trash, next/previous message and reply in messaging – and tapping to either side of them pulls up a more comprehensive menu.  Where there's a list – such as in messaging – where you might want to select multiple items, tapping to the left expands checkboxes.  Search is generally via Bing, though there's no global search; instead, hitting the search button in each app triggers a local search.  There's also support for multiple calendars, including multiple Exchange calendars, with each color-coded.
Microsoft are retiring not only their "Windows Mobile" nomenclature but ActiveSync and any other desktop sync app they've used in the past.  Instead, the Zune desktop manager software is being rolled-out worldwide, and that will be used to sync Windows Phone 7 devices.  Both wired and WiFi sync will be possible, which is long-overdue.
Confirmed carrier partners includes AT&T, Deutsche Telekom AG, Orange, SFR, Sprint, Telecom Italia, Telefónica, Telstra, T-Mobile USA, Verizon Wireless and Vodafone, while manufacturers Dell, Garmin-Asus, HTC, HP, LG, Samsung, Sony Ericsson, Toshiba and Qualcomm are on-board.  Those partners won't be able to change the onscreen QWERTY keyboard – which is one of seven layouts (including numeric) Microsoft have developed – but they will be able to add on a hardware QWERTY.  For the moment, since Microsoft have screen aspect ratio specifications, they'll have to be landscape rather than portrait QWERTY devices, too.  In the display units Microsoft showed us, the accelerometer wasn't working properly, but final devices will flip automatically between portrait and landscape on-screen keyboard layouts.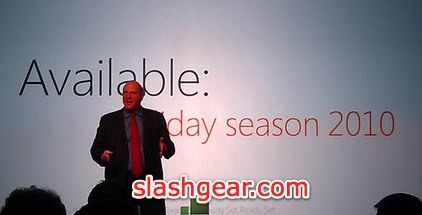 We had a chance to try out some of the prototypes – though not take photos or video yet – earlier on today, and first impressions are reasonably positive.  Microsoft were at pains to point out that it's still an in-development build, and indeed we saw various bugs and slow-downs.  Often these would take place when opening an app, with data being pulled in but no on-screen indication of that taking place nor its progress.  The touchscreen on the development device seemed responsive, as was the onscreen keyboard, and the animations are smooth.  The browser supports pinch-zoom and will eventually reflow text on a double-tap.
Windows Phone 7 UI Demo:
Press Release:
Microsoft Unveils Windows Phone 7 Series

New phones designed for life in motion to debut at holiday 2010.

BARCELONA, Spain – Feb. 15, 2010 – Today at Mobile World Congress 2010, Microsoft Corp. CEO Steve Ballmer unveiled the next generation of Windows® Phones, Windows Phone 7 Series. With this new platform, Microsoft offers a fresh approach to phone software, distinguished by smart design and truly integrated experiences that bring to the surface the content people care about from the Web and applications. For the first time ever, Microsoft will bring together Xbox LIVE games and the Zune music and video experience on a mobile phone, exclusively on Windows Phone 7 Series. Partners have already started building phones; customers will be able to purchase the first phones in stores by holiday 2010.

"Today, I'm proud to introduce Windows Phone 7 Series, the next generation of Windows Phones," said Steve Ballmer, chief executive officer at Microsoft. "In a crowded market filled with phones that look the same and do the same things, I challenged the team to deliver a different kind of mobile experience. We believe Windows Phone 7 Series is a phone that truly reflects the speed of people's lives and their need to connect to other people."

Designed for Life in Motion

With Windows Phone 7 Series, Microsoft takes a fundamentally different approach to phone software. Smart design begins with a new, holistic design system that informs every aspect of the phone, from its visually appealing layout and motion to its function and hardware integration. On the Start screen, dynamically updated "live tiles" show users real-time content directly, breaking the mold of static icons that serve as an intermediate step on the way to an application. Create a tile of a friend, and the user gains a readable, up-to-date view of a friend's latest pictures and posts, just by glancing at Start.

Every Windows Phone 7 Series phone will come with a dedicated hardware button for Bing, providing one-click access to search from anywhere on the phone, while a special implementation of Bing search provides intent-specific results, delivering the most relevant Web or local results, depending on the type of query.

Windows Phone 7 Series creates an unrivaled set of integrated experiences on a phone through Windows Phone hubs. Hubs bring together related content from the Web, applications and services into a single view to simplify common tasks. Windows Phone 7 Series includes six hubs built on specific themes reflecting activities that matter most to people:

* People. This hub delivers an engaging social experience by bringing together relevant content based on the person, including his or her live feeds from social networks and photos. It also provides a central place from which to post updates to Facebook and Windows Live in one step.

*Pictures. This hub makes it easy to share pictures and video to a social network in one step. Windows Phone 7 Series also brings together a user's photos by integrating with the Web and PC, making the phone the ideal place to view a person's entire picture and video collection.

* Games. This hub delivers the first and only official Xbox LIVE experience on a phone, including Xbox LIVE games, Spotlight feed and the ability to see a gamer's avatar, Achievements and gamer profile. With more than 23 million active members around the world, Xbox LIVE unlocks a world of friends, games and entertainment on Xbox 360, and now also on Windows Phone 7 Series.

* Music + Video. This hub creates an incredible media experience that brings the best of Zune, including content from a user's PC, online music services and even a built-in FM radio into one simple place that is all about music and video. Users can turn their media experience into a social one with Zune Social on a PC and share their media recommendations with like-minded music lovers. The playback experience is rich and easy to navigate, and immerses the listener in the content.

* Marketplace. This hub allows the user to easily discover and load the phone with certified applications and games.

* Office. This hub brings the familiar experience of the world's leading productivity software to the Windows Phone. With access to Office, OneNote and SharePoint Workspace all in one place, users can easily read, edit and share documents. With the additional power of Outlook Mobile, users stay productive and up to date while on the go.

Availability

Partners from around the world have committed to include Windows Phone 7 Series in their portfolio plans. They include mobile operators AT&T, Deutsche Telekom AG, Orange, SFR, Sprint, Telecom Italia, Telefónica, Telstra, T-Mobile USA, Verizon Wireless and Vodafone, and manufacturers Dell, Garmin-Asus, HTC Corp., HP, LG, Samsung, Sony Ericsson, Toshiba and Qualcomm Inc. The first phones will be available by holiday 2010. Customers who would like to receive additional information about Windows Phone 7 Series and be notified when it is available can register at http://www.windowsphone7series.com.

To watch the full replay of Steve Ballmer's press conference at Mobile World Congress, and to experience Windows Phone 7 Series through an online product demo, readers can visit http://www.microsoft.com/news/windowsphone.

Founded in 1975, Microsoft (Nasdaq "MSFT") is the worldwide leader in software, services and solutions that help people and businesses realize their full potential.