Windows Mobile To Get Easier, More Frequent Updates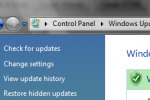 A new job listing for a Lead Software Development Engineer over at Microsoft seems to point to a much easier way for users to update their Windows Mobile devices. This new method is called Device Update and would act as a one-stop shop for users looking to update their devices with patches, new features, and more.
This would function very similarly to Windows Update. It would also place Windows Mobile back on track with other OS systems who already employe easy system update processes like Android, Symbian and iPhone OS X.
Currently, Windows Mobile devices can only receive updates through firmware updates, which must be approved by carriers prior to their appearance. This slows things down considerably. We don't know when Device Update will be put into play, but Windows Mobile 7's release seems to be a likely time.
[via Ars Technica]