Windows Mobile 6.5 Themes Leak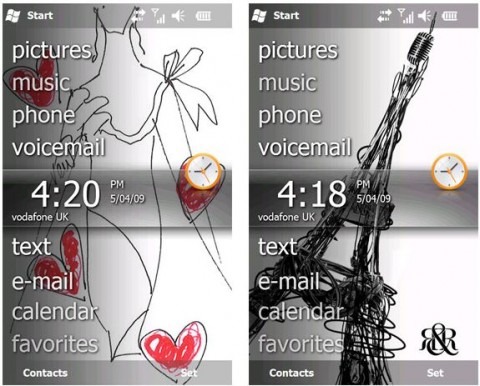 There's no denying that Windows Mobile 6.5 will bring with it plenty of functionality improvements, but we'd be lying if we said the new themes and general sprucing up of the whole OS visually weren't another draw.  Screenshots of the new WM6.5 themes – the handiwork of designers including Diane von Fürstenberg and Vera Wang – have emerged, and they look a whole lot better than Windows Mobile 6.1 ever did.
More theme screenshots after the cut
The full roster of designers is Ron Arad, Vera Wang, Rock and Republic and Diane von Fürstenberg, together with Isaac Misrahi whose pink & white gingham theme we saw last month.  While the current iteration of the Microsoft smartphone OS is capable, it's never been exactly the most attractive competitor to the iPhone, BlackBerry or other mobile OSes; these themes go a long way to clawing back some of the gap.
The screenshots come from the latest leaked build, 21202, which is currently being discussed over at the XDA-Developers forums.  It comes from an unspecified HTC device.
[via istartedsomething]