Windows Defender for Chrome and Firefox requires Microsoft Edge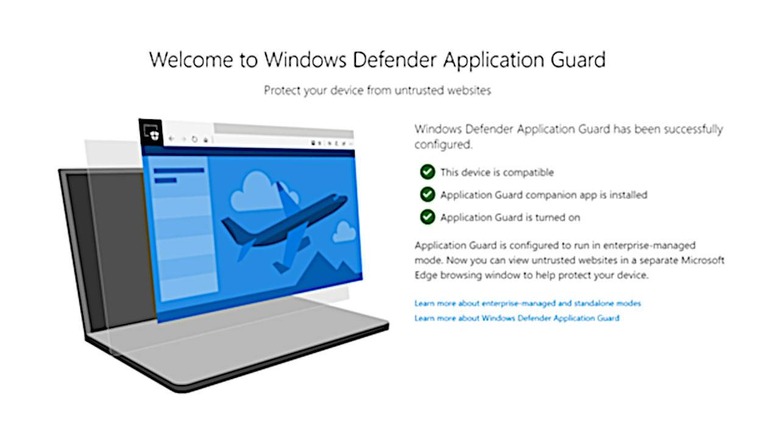 Microsoft has given its best, and sometimes its worst, to put its Internet Explorer past behind it and push Microsoft Edge to its users. It has failed and is reworking Edge to use Chrome's engine instead. In yet another admission of defeat, it will be making its Windows Defender Application Guard browser extension, previously exclusive to Edge, available for Google Chrome and Mozilla Firefox. The catch? You will still have to bear with using Edge when it determines you're visiting an untrusted site.
Application Guard, in a nutshell, creates an isolated instance of Microsoft Edge in order to protect the rest of the Windows 10 system from potentially harmful websites. Naturally, it makes use of features exclusively available to Microsoft Edge. Some users, even enterprise ones, prefer to use Chrome or Firefox, though, which leaves them vulnerable to Internet exploits. Rather than force them to switch browsers, Microsoft has come up with a compromise.
In its latest Windows 10 Insider Preview Build, Microsoft announced the development of Application Guard extensions for those two browsers. Once installed, users can continue using their favorite browser as normal. The difference is when they click on a link that has been deemed to be untrusted by the higher-ups.
Instead of completely blocking access to that site, they will be redirected to Application Guard for Edge. In other words, Edge will open in an isolated session so that you can continue viewing the site as they please. Here's where things can get interesting and probably a bit annoying. You can visit any untrusted site in that quarantined session as normal but if you happen to visit a trusted site, you will be thrown back to Chrome or Firefox.
It will be a ping pong experience but it is perhaps the only way Microsoft can ensure the integrity of its enterprise systems. This upcoming feature, for better or worse, will be available only on Enterprise and Pro version of Windows 10, leaving Home edition users with the basics.