Windows 95 released as an app: Download out now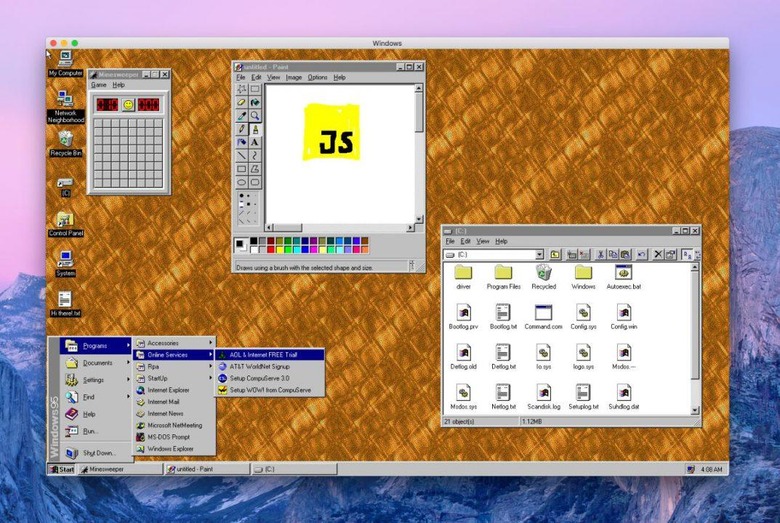 The 1990s were a wacky and wild time, thanks in part the rise of the internet and the widespread adoption of personal computers. Anyone who was around in the mid-90s will remember just how big of a release Windows 95 was, with people lining up at stores to buy a copy of the OS and Microsoft launching a multi-million dollar advertising campaign that included recruiting Jennifer Aniston and Matthew Perry to make a ridiculous instructional video. Windows 95 was a big deal at the time, and it seems silly to think of people having that kind of reaction to a new operating system these days.
Even though we probably won't see an OS launch with the same kind of fervor behind it anytime soon, we can now take a walk down memory lane thanks to a Slack developer by the name of Felix Rieseberg. He's turned Windows 95 into an Electron app, which means that it's capable of running not only on modern Windows PCs, but macOS and Linux as well.
Rieseberg has posted the source code and installers to a library on GitHub, where he tells us that this is indeed the full version of Windows 95 and that it runs "quite well." While this probably doesn't have any practical use here in 2018, exploring Windows 95 is certainly a good way to spend an afternoon.
After all, you can do all sorts of novel things with this app, from playing games of Minesweeper and Solitaire to messing around in MS Paint. Sadly, not all aspects of Windows 95 are fully-functioning, as Internet Explorer unsurprisingly doesn't work.
Though that may be a shame, this should still give you a fun little dose of nostalgia to start your weekend, and for everyone born after Windows 95 had already fallen out of favor, it offers a functioning glimpse at an operating system that made some pretty big strides for its time. You can check it out for yourself by visiting Rieseberg's project on GitHub.