Windows 8 Pro upgrade might need a Windows 7 product key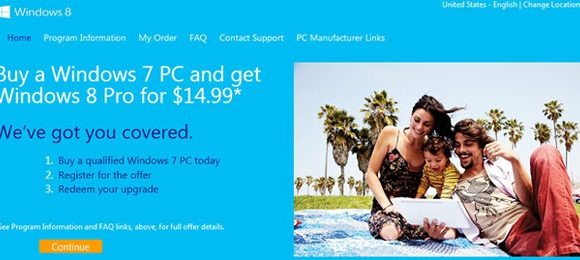 If you purchased a computer that had the Windows 7 operating system and are looking forward to upgrading the device to Windows 8 Pro, you may have one more hoop to jump through. The upgrade from Windows 7 to Windows 8 Pro is being offered for $14.99. To get the upgrade at the discounted rate, you had to have purchased a Windows 7 PC on or after June 2.
Microsoft has added a new caveat to this upgrade offer and is now requiring users to supply the Windows 7 product ID. The $15 gives user's access to the Windows 8 Upgrade Assistant to help them install the new operating system on their existing PC. The $15 price tag is a discount of about $25 off the standard cost of a Windows 8 Pro upgrade selling for $39.99.
That $40 Windows 8 Pro upgrade is available to Windows XP, Vista, and Windows 7 users who purchased computers before June 2. If you don't want digital download, you'll need to cough up almost $70 to get the operating system on a disk. Originally, users who are upgrading via download to Windows 8 Pro only had to provide the name and maker of their computer along with when it was purchased.
It seems that this upgrade process was buggy and didn't work for everyone at times erroneously telling qualified users that their computer didn't qualify for the discount update. Now Microsoft is asking users to enter the product key from the little stickers we all know on Windows computers to verify that they qualify for the update, reportedly fixing the issue of users being denied the cheap update when they really qualify. Another thing requiring a product key will ensure for Microsoft is that the user has a legitimate copy of Windows 7.
[via CNET]