Windows 8 previewed on a bevy of Consumer PCs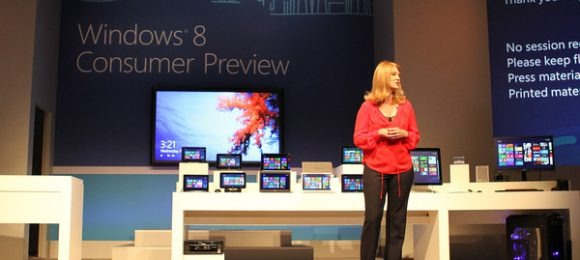 This week the Windows 8 Consumer Preview event showed the system on everything from a ten-inch tablet to a massive Gorilla Glass toting television as wide as the average human is tall. We've seen Lenovo devices, dual-screen monitors showing an ultra-massive set of screens running Windows from a device small enough to fit in your purse, and your everyday average 15-inch display. NFC is being shown to be working right out of the box with Windows 8's Consumer Preview between Bluetooth devices, and on the whole there's no doubt that Microsoft is coming in strong with manufacturer partner heat.
Holding a Canon EOS 5D Mark II on the stage next to an array with several terabytes worth of space connected to a Samsung Monitor, Windows 8 Consumer Preview running behind all of this and making the process completely seamless. What's being shown here is the expandability of Windows 8, such as two GPU cards being held inside a massive amalgamation of metal and silicon – with this, "video stabilization" is used on an unknown application and done without effort in tangent with Direct X.
Windows 8 Consumer Preview is being shown as more than just a versatile operating system, it's being shown with a collection of hardware which effectively places it above the fold as far as expandability goes. This is the essence and power of Windows, of course, and it continues to be so with Windows 8.
Windows to Go is included in this, the ability to take your Windows operating system with you on a USB stick and transfer your OS and settings from one computer to another. On stage we've seen one massive custom build of a tower running Windows 8, a USB stick taken out and placed in a laptop, and the same system popping up in both places. This is without a doubt what Microsoft is explaining as "no compromise computing power."