Windows 8 Consumer Preview app interface "Incredibly Fast and Fluid"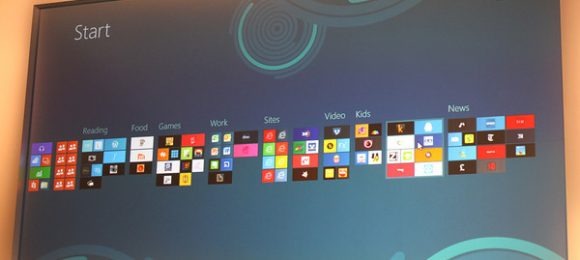 Speaking this week on the collection of apps that will work fabulously in the Windows 8 Consumer Preview, Julie Larson-Green of Windows Program Management noted that it's a completely simple and connected system to use. Tapping on a link in one app will connect you to your preferred web browser – which of course today on stage was Internet Explorer 10. What we're looking at here is a quick look at how Windows 8 will be working with a variety of different platforms when it launches.
This week we're seeing not only a tablet running apps, but a Lenovo laptop as well. Apps are able to be accessed with a mouse (dragging or using the scroll wheel) or with a tablet (using your finger to roll out.) Metro Style apps work hand in hand with one anther and as Larson-Green mentioned early on, "you don't have to close your apps if you don't want to." We'll find out more about that feature shortly. Then there's the collection of apps that have thus far been made for mobile.
"Windows has always had a strong background in graphics. We've also made it easy to create casual games for Windows 8." – Larson-Green
We've seen apps such as Pinball FX, New York Times, Endomondo, and SkyDrive, each of them running as fluidly as they've ever been in previous operating systems like Windows Phone 7 and Windows 7, but in a way that appears from here to be part of a masterfully crafted operating system that moves in and out, back and forth extremely easily. As Antoine Leblond of Windows Web says,
"This entire interface is incredibly fast and fluid. ... It's just as easy to navigate this system and navigate these apps with the mouse as it is with your finger." – Leblond
Remember to go ahead and continue to follow along with this event with us through our [MWC 2012 portal] and [Windows 8 portal] today and through the week!