Windows 8.1 fully detailed with return of Start button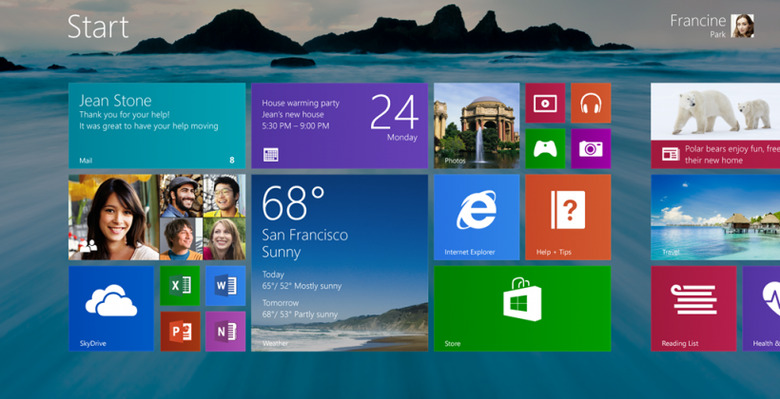 We've been hearing a lot about Windows 8.1 lately, and while it's been confirmed for a little while, very few details have made their way into the ether. However, Microsoft unwrapped plenty of details about the upcoming update, and there are a handful of updated apps and new features, as well as the return of the Start button, as previously rumored.
First off, the Start button is back, but don't get too excited just yet. As rumored yesterday, the new Start button doesn't work like in past Windows iterations, and clicking on it will simply bring up a metro-style list of all the apps installed, but you can move these around to your liking. So while it's not exactly like the traditional Start button that we know and love, it'll be slightly similar.
Personalization will be an added bonus when the Windows 8.1 update lands next month. Users will be able to use their lock screens as a slideshow to show off their favorite set of photos from vacation, and it'll even pull photos from SkyDrive. Users will also have more options as far as choosing a Start screen background, and Microsoft also included motion wallpapers that animate. You can make your desktop background the same background on the start screen as well, in order to make the start screen less segregated from everything else going on around you.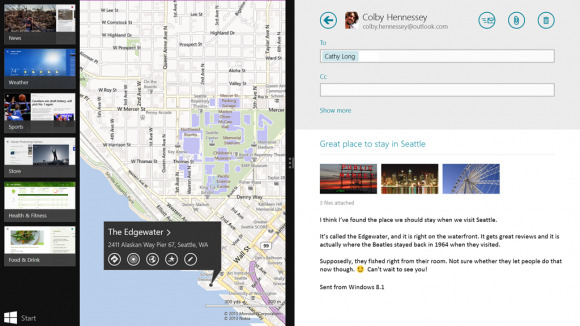 There's also some minor changes coming to the Start screen itself, including the ability to quickly move around apps to your liking by resizing them and moving multiple apps around at the same time. You'll also be able to create groups and name them what you want, and to see a quick list of all your apps on one page, you simply swipe up from the bottom to make it happen.
Windows 8 Search also is receiving a nice little bump, allowing for quicker search results and reducing the time it takes to search for something and actually clicking on it to bring it up. Currently, searching for something will bring up results in categories, but the update will deliver direct links to users, getting rid of an extra step that wasn't a huge deal to begin with, but quicker is always better in our eyes. Bing search results from the web will also appear alongside your local files.
As for built-in apps in Windows 8, Microsoft is improving all of them in some way or another, as well as improving multitasking between apps. Microsoft says that the Photos app will come with some new editing features, and the Music app has been redesigned. As for multitasking, Windows 8.1 will allow users to "snap" up to three apps on one screen, and you'll be able to resize apps to any size you want, so those with multiple monitors will be able to have a ton of apps open and viewable at once, which is pretty cool.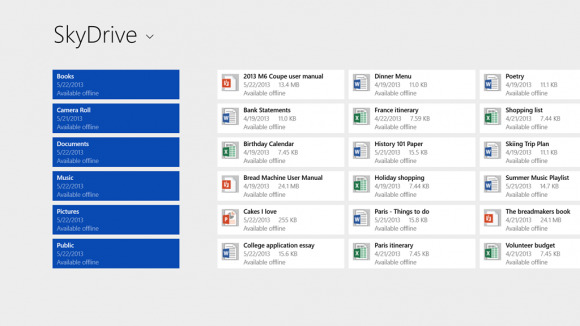 Cloud storage is also a larger focus in Windows 8.1. Microsoft's SkyDrive is integrated much more deeply into the operating system than before, allowing users to save files directly to SkyDrive without any friction. The new SkyDrive app also gives you access to your local files, as well as files that are in the cloud. Plus, you'll even be able to access these files offline. Settings will also be saved to SkyDrive, meaning that when you log into a new Windows 8.1 device using your Microsoft account, all of your personalized settings will activate.
Microsoft says that there's plenty of information still to come, including changes to built-in apps (and we have yet to hear about a boot-to-desktop feature). Plus, we should be hearing a heck of a lot more about the update come next month when Microsoft hosts their annual BUILD conference, where the company will officially release Windows 8.1 into the wild.