Windows 7 Upgrade Program tipped: Vista PCs bought after June 1st get upgrade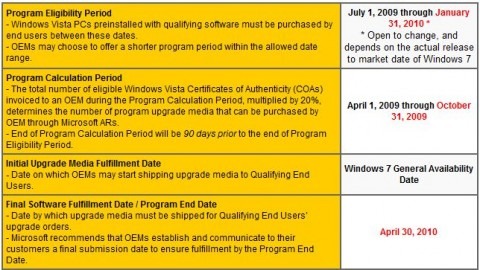 Microsoft is planning to run a free upgrade scheme for Windows 7, under the terms of which anybody who buys a new PC from a participating vendor after July 1st will be eligible for an upgrade to the new OS on its release.  Although the details of the scheme – particularly the date with which it comes into effect, and the manufacturers participating – are unconfirmed, Tech ARP managed to acquire a draft of the Microsoft proposal, which outlines their intent.
The scheme is similar to that which Microsoft organized during the changeover from Windows XP to Windows Vista, in which buyers of a new XP computer could upgrade, without charge, to Vista once that OS was released.  In this way, the inevitable pre-launch sales dip is hopefully minimized, as users are less inclined to wait until machines running the new software hit shelves.
While Microsoft refer to it as the "Windows 7 Technical Guarantee Program", the final scheme looks likely to be known as the Windows 7 Upgrade Program.  Participation in the scheme is not mandatory for manufacturers producing Windows-based computers, but given the likelihood that buyers will be looking out for the free upgrade sticker, we'd expect to see most take part.
Upgrades will be tier-for-tier, so a Vista Home Premium user will get Windows 7 Home Premium, while a Vista Ultimate user will get Windows 7 Ultimate.  Similarly, 32-bit and 64-bit versions will upgrade to their same-bit version; 32-bit to 64-bit upgrades will not be allowed, although clean installs will be.  Those with a system that has a valid Vista licence but is running XP under the downgrade scheme will be allowed to perform a fresh install of Windows 7.
[via Slashdot]